Description
NOTE: The Harwood Museum venue has sold out but you can still get tickets for a new venue that was added to accomodate the overflow for April 11 at the Taos Youth and Family Center from 7:00-9:00pm. Register Here.
At this venue participants will see a presentation and roundtable discussion with Dr. Steven Goldfarb and Steve Tamayo, moderated by Agnes Chavez. They will also see the live animated tipi projection created in collaboration with workshop students from TISA. (This is being recorded for presentation at the Harwood Event)
________________________________________
Taos is the launch site for this series of roundtable discussions that will then travel to Espanola and Santa Fe on April 13. The Harwood Museum of Art will be the sponsoring venue for a lively roundtable discussion with Dr. Greg Cajete, Dr. Steven Goldfarb and Steve Tamayo, moderated by Agnes Chavez.
About the Event
Lakota Cosmology meets Particle Physics: Converging Worldviews is an interdisciplinary roundtable discussion that investigates native science, western science and the arts as parallel 'ways of knowing' and understanding our place in the universe. Powerful new microscopes, particle accelerators and telescopes are revealing an interdependent relationship with the universe that is challenging the modern worldview. Only through open dialogue and interdisciplinary exchange can we begin to move toward a new worldview; one that combines the advances of the scientific method and technological innovations with native science as a life-sustaining ecology that is participatory and in balance with nature.
Join us for a multimedia presentation and lively discussion that will expand your mind, inspire your creativity and warm your heart!

Guest Speakers
Dr. Steve Goldfarb is a physicist from the University of Melbourne, working on the ATLAS Experiment at CERN in Geneva Switzerland. He is active in education and outreach, webmaster for the ATLAS public web pages, co-chair of the International Particle Physics Outreach Group, on-site coordinator of the REU Summer Student and Research Semester Abroad programs for American undergraduates at CERN, and advisory board member for Quarknet.

Steve Tamayo is based in Omaha, Nebraska. He draws upon his family history as a member of the Sicangu Lakota tribe. His fine arts education (BFA from Singe Gleska University), along with his cultural upbringing, have shaped him as an artist, historian, storyteller and dancer. Steve provides activities during his residencies that include art and regalia making, drumming, powwow dance demonstrations and lectures on the history, symbolism and meaning behind the Native customs and traditions. Most recently he led workshops with children at Standing Rock Oceti Sakowin Camp. Steve is the Prevention Program Manager and Cultural Arts Specialist for the Tiwahe Wicoti camp, a culturally relevant camp specifically geared towards Lakota teachings on the Rosebud Reservation in Milk's Camp Community. It was created in 2003. Approximately 6000 kids have benefitted from this camp. More information about the camp can be found at www.lakotanaap.org.

Dr. Greg Cajete is a Native American educator whose work is dedicated to honoring the foundations of indigenous knowledge in education. Dr. Cajete is a Tewa Indian from Santa Clara Pueblo, New Mexico. He has served as a New Mexico Humanities scholar in ethno botany of Northern New Mexico and as a member of the New Mexico Arts Commission. Dr. Cajete has authored five books: "Look to the Mountain: An Ecology of Indigenous Education," (Kivaki Press, 1994); "Ignite the Sparkle: An Indigenous Science Education Curriculum Model", (Kivaki Press, 1999); "Spirit of the Game: Indigenous Wellsprings (2004) ," "A People's Ecology: Explorations in Sustainable Living," and "Native Science: Natural Laws of Interdependence" (Clearlight Publishers, 1999 and 2000).
About the Moderator
Agnes Chavez is the project organizer and moderator for this event as part of the Projecting Particles project. She is a new media artist and educator, working at the intersection of art, science, technology and social practice. She partners with scientists and programmers to explore our relationship to nature and technology through data visualization, sound and projections. She is currently working with the CERN Data Center in Geneva, Switzerland, to design a permanent installation that visualizes the flow of data from the Large Hadron Collider, the world's largest particle accelerator. Agnes is Co-Director of The PASEO, the first outdoor participatory arts festival which brings projection, performance and installation art to the streets of Taos, New Mexico. In 2009 she founded the STEMarts Lab which empowers youth through STEAM workshops that integrate science, technology and new media arts through social practice.
About Projecting Particles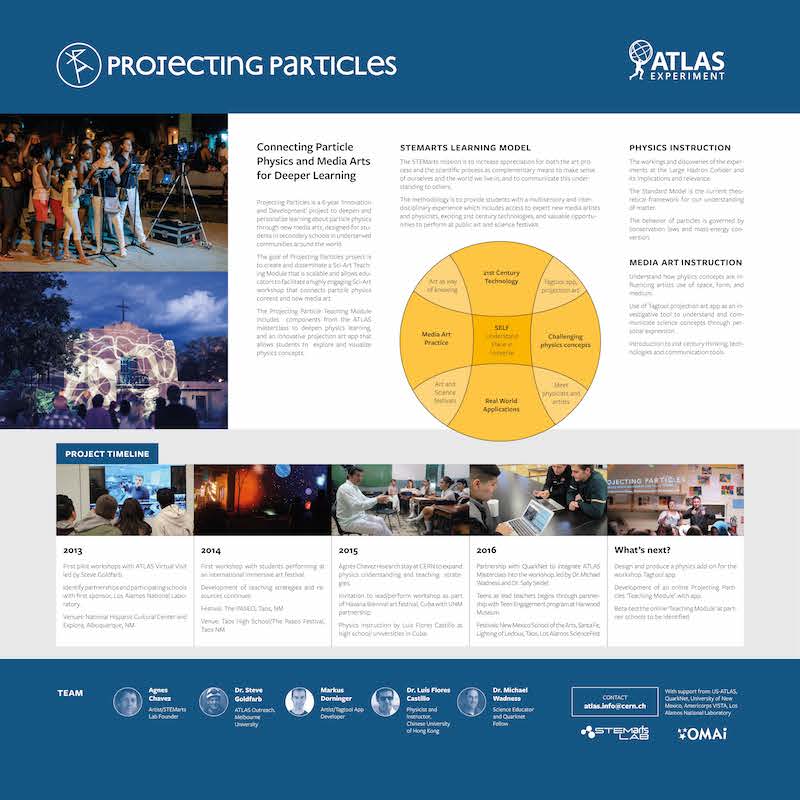 Projecting Particles projects combine projection art and particle physics to explore and visualize the radical new discoveries taking place in the field of particle physics, expanding our understanding of the universe and the fundamental laws of nature. Through youth workshops, students participate in an interdisciplinary collaboration with artists and physicists and hands-on sci-art activities.The workshop culminates in a projection event that communicates their discoveries to the general public.
For this event students will work with CERN physicist, Dr. Steven Goldfarb, to learn about the Large Hadron Collider, the largest particle accelerator in Geneva Switzerland and how it is used to discover particles that are the key to our understanding of the universe. Through Lakota cultural specialist, Steve Tamayo, they will learn the indigenous way of doing science as a participatory and creative process to understand the world around us. Students will participate in the set up of a Lakota Tipi and create a dreamcatcher as they hear the oral stories that through metaphor share the cosmological observations of the Lakota people. Guided by the research and wisdom of Santa Clara author and professor of Native American studies, Dr. Greg Cajete, the interdisciplinary team will encourage youth to imagine a new worldview that combines the advances of the scientific method and technological innovations with a life-sustaining ecology that is participatory and in balance with nature. They will investigate the topic of dark matter through this newly created lens. New media artist, Agnes Chavez, will work with Steve Tamayo and students to transfer their newly created stories into animated electronic projections from the inside of the tipi to create an installation that they will share with the community.
The live tipi installation will take place at dark on April 11th at the Taos Integrated School of the Arts (TISA). Video documentation from this workshop and installation will be shown at each of the presentations.

Thanks to our sponsors and partners

This event is made possible thanks to our sponsors; Martin Foundation,Taos Integrated School of the Arts, The Harwood Museum of Art, University of New Mexico, Northern New Mexico Community College, Biocultura and our collaborating partners; ATLAS Experiment@CERN, Moving Arts, Quarknet, and the Paseo Project.


For more information please contact:
Agnes Chavez
575-770-4256
learn@sube.com
www.stemartslab.com
Save
Save
Organizer of Lakota Cosmology Meets Particle Physics: Converging Worldviews/Harwood Taos