The American Legion Los Angeles County Council 1st Annual Tamales Festival
About this event
Join us for the LACC's 1st Tamales Festival on Saturday, December 4, 2021 at the American Legion Alhambra Post 139, 12:00 - 6:00 p.m.
Set up/Prep-time (cooking-steaming): 10:00 -12:00 p.m.
Judging 12:00 - 2:00 p.m. - One category only - BEST Tamale awarded by three independent judges who will be tasting all official entries (entries may be sweet or savory, veggie, meat or fruit - traditional or non-traditional)
Tamales cook-off, tamales for sale and any other complimentary food, prizes, drawings, and live music
Tamales cook-off entry $25.00 + one (1) item for drawing (minimum $25.00 value)
Tamale Participant Entry Form Submission:https://form.jotform.com/212864233199158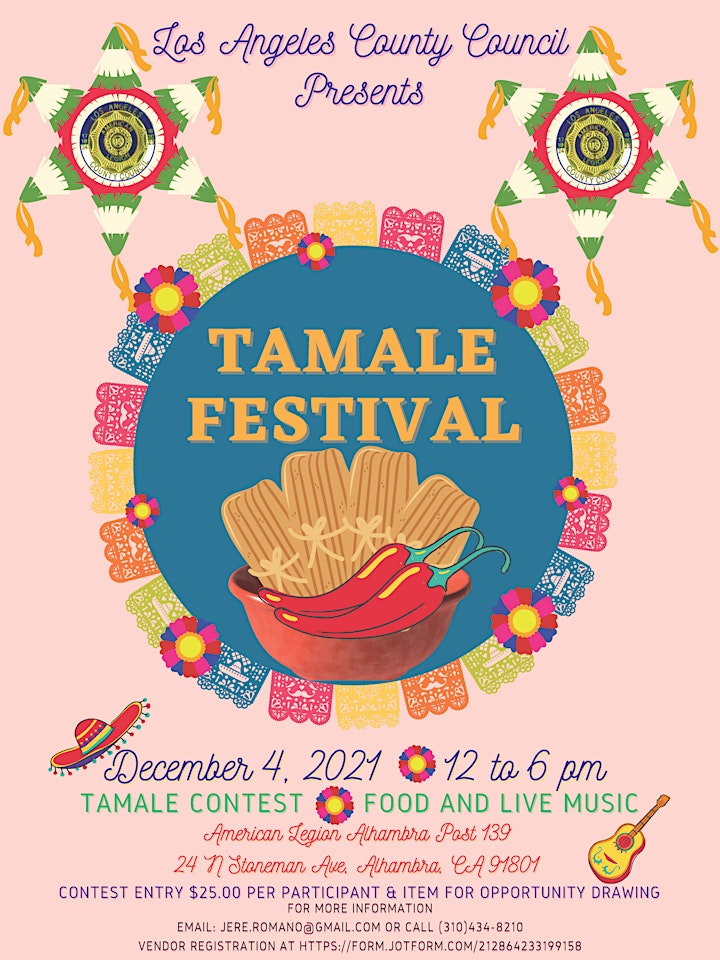 TAL LACC Tamales Festival
Vendor/Participant Entry Rules and Information
December 4, 2021
1. Participants in the 1st Annual Tamales Festival cook-off must pay a non-refundable $25.00 dollar entry fee plus an additional item (basket) of a minimum $25.00 dollar value.
2. Prep time will be allowed during 10:00 a.m. to 12:00 p.m. on day of event, December 4, 2021.
3. Tamales can be made/prepared prior to the event, December 4, 2021 but cooking/steaming of tamales must be done on site on the day of event during 10:00 a.m. to 12:00 p.m. prep time.
4. A table and two (2) chairs will be provided for each vendor/participant. Participants must supply stove, grill, or any other item(s) used to cook or steam tamales (other supplies not provided include canopy and any miscellaneous items such as knives, plates, napkins…etc.).
5. Participants must cook at least three (3) tamales of the same kind per entry for judging.
6. Participants can make additional tamales and other complimentary food to sell to the public during the event.
Judging will take place after the 12:00 p.m. prep time. Awards for 1st and 2nd place will be a cash prize. Amount of cash prizes awarded will be dependent upon the number of entries collected for the event. An updated announcement will be made on the day of the event.