Event Information
Location
UCLA Meyer and Renee Luskin Conference Center
425 Westwood Plaza
Los Angeles, CA 90095
LABEST - Los Angeles Bioscience Ecosystem Summit 2022 - LA's premiere bioscience conference
About this event
LABEST - Los Angeles Bioscience Ecosystem Summit 2022 is the premier showcase for bioscience innovation in Los Angeles County produced by UCLA TDG (Technology Development Group) - the tech transfer office for the University. This event is a collaboration with colleagues from across the county to present promising academic research, entrepreneurial faculty investigators, as well as local incubators and start up companies. It is intended to promote awareness of the growing life science entrepreneurial ecosystem in Los Angeles and to foster partnerships with the biotechnology and life science industry.
Throughout the day, faculty members present their latest scientific breakthroughs, which will lead to the critical therapies of tomorrow. Leading bioscience translational research programs and start ups will be showcased where Southern California Institutions have significant expertise, pioneering research and resource commitments directed towards developing innovative patient therapies.
If you have any questions, please email us at labest@tdg.ucla.edu.
LABEST'S COVID-19 Policy:
To mitigate the risk of COVID-19 to University's staff, guests, and attendees, LABEST and Luskin Conference Center requires proof of full vaccination. Attendees must present a photo ID along with proof of CDC definition of being fully vaccinated against COVID-19. In addition, we are requiring all attendees to wear masks while indoors except when actively eating or drinking. Please note that University protocols, and those of local health authorities, may be updated periodically.
THANK YOU TO OUR LABEST 2022 SPONSORS!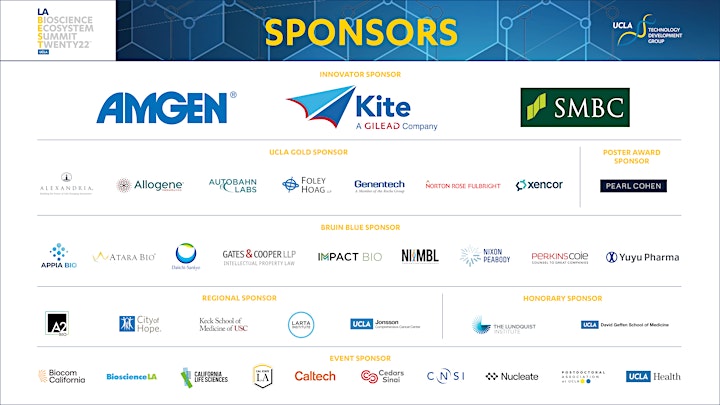 Date and time
Location
UCLA Meyer and Renee Luskin Conference Center
425 Westwood Plaza
Los Angeles, CA 90095