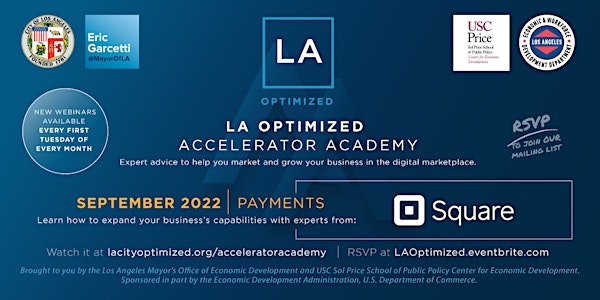 L.A. Optimized Accelerator Academy
L.A. Optimized Accelerator Academy is brought to you by the Mayor's Office of Economic Development and USC Center for Economic Development
About this event
Learn how to expand your business's capabilities throughout the month of September with LA Optimized Accelerator.
Featuring experts from:
Square
Accepting all forms of payment
Square revolutionized payments in 2009 with Square Reader, making it possible for anyone to accept card payments using a smartphone or tablet. Join Square specialist Martin Guerrero to learn about the many ways you can take payments for your business, including in-person, online and everything in between.
Presented by Martin Guerrero.
Martin Guerrero is a member of the Global Policy Partnerships and Community Impact team at Block. Block is a global technology company with a focus on financial services. Made up of Square, Cash App, Spiral, TIDAL, and TBD.
As an e-commerce specialist with nearly 15 years in the website and domain name industry he has been helping Square sellers broaden their customer base by providing both onsite and online educational programs centered around the Square ecosystem. Martin also heads up cross-functional projects supporting Spanish-speaking and Indigenous small businesses and other community and third party partners.
For a limited release of a few past webinars, please visit www.lacityoptimized.org/pastevents to start reviewing today.
RSVP NOW to join our mailing list!
By registering for this event you agree that the Los Angeles Mayor's Office, sponsors, and partners may send you future communications through email.
ABOUT THE L.A. OPTIMIZED ACCELERATOR ACADEMY
The L.A. Optimized Accelerator Academy provides businesses e-commerce growth and marketing support through its educational programming with the collaboration of corporate donors, non-profit partners, and subject-matter experts. This portion of the program is open to ALL businesses nationwide. Video recordings will be released for viewing on the first Tuesday of every month.
This program is brought to you by the Los Angeles Mayor's Office of Economic Development and USC Sol Price School of Public Policy Center for Economic Development. Sponsored in part by the Economic Development Administration, U.S. Department of Commerce.
ABOUT L.A. OPTIMIZED
LA Optimized (LAO) is a program by Los Angeles Mayor Eric Garcetti and the Los Angeles City Economic Workforce Development Department (EWDD) to help small businesses adapt to consumer behavior and utilize technology to stabilize, optimize, and grow their businesses through e-commerce, branding, and marketing. Individualized services delivered to businesses accepted into the program include the following:
search engine optimization through business listings to enable businesses to be easily found by more consumers;
website development or optimization to ensure websites and its functionalities are equipped to interact and service their specific clientele online and potentially expand a business's capacity to cater to the growing digital marketplace;
provision of marketing and/or branding collateral by Los Angeles creatives to help elevate a business's brand and help them get noticed by consumers;
and e-commerce health audits and consultations which provide multiple analytic trackers that enable businesses to understand the improvements and shifts that need to be made to achieve greater e-commerce success.
While everyone is welcome to the Accelerator Academy, the L.A. Optimized individualized services are only available to L.A. City businesses at this time. If you have a business in L.A and is interested in applying for this program, please visit coronavirus.lacity.org/laoptimized.
If you are a Los Angeles County creative (photographer, videographer, graphic designer, etc.) that is interested in helping small businesses, please visit coronavirus.lacity.org/laoptimizedcreatives.
The L.A. Optimized program is made possible by the Los Angeles Mayor's Office of Economic Development, the Los Angeles City Economic and Workforce Development Department, Mayor's Fund for Los Angeles, Ernst & Young's Entrepreneur in Residence Program, Art Center College of Design, and the Los Angeles City Creative Advisory Board.