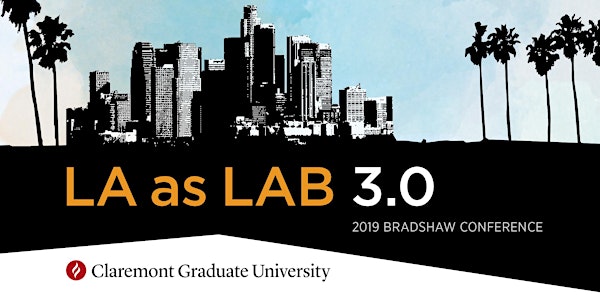 LA as LAB 3.0
When and where
Location
Albrecht Auditorium 950 N. Dartmouth Ave Claremont, CA 91711
Description
In 2015, the LA as Lab conference at Claremont Graduate University set out to gain an understanding of why Los Angeles has become one of the most important incubators for innovation in the arts and culture sectors. In 2017, the conference surveyed the "extra territories" of arts and cultural production outside of established institutions and beyond codified artistic boundaries. This year, LA as LAB returns to take a closer look at the trends and technologies, the upheavals and tensions, the activism and advocacy that continue to make Los Angeles a thriving laboratory for arts and cultural exploration.
LA as LAB 3.0 is a production of Claremont Graduate University's School of Arts and Humanities' Museum Studies Program; Sotheby's Institute of Art - Los Angeles' Arts Management and Art Business Programs; and the Getty Leadership Institute.
Generous support is provided by the Thornton F. Bradshaw programs and endowment fund.
8:30am - 9:30am - Registration and Breakfast
Location: Albrecht Auditorium
9:30am - 9:45am - Opening Remarks
9:45am - 10:30am - Keynote - The Arts In The New World Order

Adrian Ellis, Director, AEA Consulting
Adrian Ellis will discuss the ways in which changes in society and economy have been and will continue to transform the production, distribution and experience of the arts and the vulnerabilities of the sector to the sort of paradigmatic change that has affected adjacent sectors such as publishing and recording; the ways in which institutional structures may adapt to these changes; and the dilemmas that arts leaders face in navigating them. The talk will seek to place the experience of LA in an international context, drawing on his work with cultural organizations and their stakeholders in Asia, Europe and the Middle East as well as the United States. He will probably fail, but it will be nevertheless be entertaining to watch him try.
10:45am - 12:00pm - Concurrent Morning Panels
Artists at the Intersection of Art, Technology, and Organizations
Location: Burkle 14
Joel Ferree, LACMA Art & Technology Lab
Stacy Switzer, Fathomers
Debra Scacco, Residency Director, LA Cleantech Incubator
Moderator: Jonathan T. D. Neil, Director, Sotheby's Institute of Art at Claremont Graduate University
As technology has come to dominate the discourse of innovation in the cultural sphere, organizations in Los Angeles of various different stripes have begun to provide artists with opportunities to address technology and technological change in their practices, from working with and developing new tech itself to facilitating partnerships with industry players. This panel brings together artists, curators and program directors to discuss new directions and new opportunities in this "art and technology" space, to address technological disruption and sustainability, and to question the new technological determinism that seems to be so widely accepted at present.
Innovations in Museum Exhibitions: New forms, New audiences?
Location: Burkle 12
Anthony Morey, Executive Director/Chief Curator, A+D Museum
Carolyn Brucken, Chief Curator, Autry Museum of the American West
Sonnet Stanfill, Chief Curator of Fashion, V&A Museum and LACMA Fellow
Moderator: Joshua Goode, Associate Professor of History and Cultural Studies, and Director of Museum Studies Program, CGU
As museums seek new audiences and curators and directors experiment with new exhibitionary techniques, one can wonder whether the basic definition of the museum is also coming under revision. This panel, led by three innovative curators working in both new and old museums in Los Angeles, explores whether their form of exhibition and the objects and subject matter they choose to display, promote a new function for the museum or whether their new exhibitionary technique confirms a long-standing function of museums in Los Angeles and elsewhere.
Arts and (R)evolution
Location: Burkle 16
Amir Whitaker, Staff Attorney, ACLU of Southern California
Rudy Espinoza, Executive Director, Leadership for Urban Renewal Network (LURN)
Stephania Ramirez, Director Strategic Initiatives, California Community Foundation
Jamal Jones, Leimert Park Representative, Empowerment Congress Neighborhood Development Council
Moderator: Amy Shimshon-Santo, Program Director, Arts Management, Sotheby's Institute of Art at Claremont Graduate University
Got power? Everyone does. How will you use yours to make a difference? This panel will look at how local efforts have been a catalyst for broader systemic changes impacting how people access resources, catalyze ecosystem enhancements, and increase participation in arts and culture. Panelists who work across scales — from local start-ups and neighborhood councils to statewide foundations and national legal advocacy agencies — will discuss the spark and positive ripple effect that local work can have on the world. Arts and cultural practitioners committed to social and spatial justice will learn from seasoned changemakers to better achieve our wildest aspirations for a thriving arts and cultural sector. Will the (r)evolution be administered? If so, it will require ethical leadership that engages publics and helps catalyze decision making and resource allocation to invest in the lives of individuals, communities, the city, and beyond.
12:00pm - 2:00pm - Lunch
Location: Jenkins Courtyard
1:00 - 2:00pm - Facilitated Discussions:
Location: Jenkins Courtyard
Artists as Nonprofit Leaders
Discussion led by Robert Crouch, Artistic and Executive Director of Fulcrum Arts
This roundtable will be of particular interest to those who have an active creative practice and also seek to develop a career as an arts leader. Our contemporary arts landscape has been informed and influenced by artists who have built and helmed many of our beloved local institutions: LACE, X-Tra, KCHUNG Radio, and Human Resources, to name a few. The roundtable will be led by artist and Fulcrum Arts' Executive and Artistic Director Robert Crouch, who will share his experienced with not only maintaining an active studio practice while overseeing an arts organization with a $2 million budget, but also how our experiences as artists can, and should, inform the direction and priorities of our organizations.
Strategic Planning at Scale
Discussion led by Anne Bown-Crawford, Executive Director, California Arts Council
The roundtable will be a snapshot of what is happening at the CAC right now, how we see ourselves fitting into the discussion around the current landscape looking at the space that arts and culture hold in supporting innovation and offering creative solutions to the challenge of building resilient, healthy communities.
Moving Through the Career Pipeline
Discussion led by Melody Kanschat, Executive Director, Getty Leadership Institute at Claremont Graduate University
Roundtable discussion topics will include:
Deciding to Go

Exit and Finding a New Job Strategies

First 90 Days in New Job
2:15pm - 3:30pm - Pecha Kucha Presentations - Artist-Driven Practice
Location: Albrecht Auditorium
Creative practice can unleash ideas, activate communities, and make space for new ways of being and working. Learn from artists across different disciplines who are breaching boundaries to expand their reach, and transforming the city through their creative practices along the way.
Trifari White, Filmmaker and Co-Executive Producer, NBC
Marina Magalhães, Dancer and Choreographer
Neela Banerjee, Novelist and Managing Editor, Kaya Press
Te'Amir, Musician and Producer
Kim Abeles, Visual Artist
3:30pm - 3:45pm - Coffee Break
Location: Albrecht Hallway
3:45pm - 5:00pm - Closing Panel - New Leadership, New Directions
Location: Albrecht Auditorium
Join us as we explore what will be happening at the LA Phil as it moves into its second hundred years, and at two major new institutions that are creating a titanic shift in Los Angeles' arts ecology: the Academy Museum and the Lucas Museum.
Brendan Connell, Jr, COO, Academy Museum of Motion Pictures

Judy Kim, Deputy Director, Lucas Museum of Narrative Art
Simon Woods, CEO, LA Phil
Moderator, Laura Zucker, Senior Fellow, Arts Management Program, Sotheby's Institute of Art at Claremont Graduate University
5:00pm - 6:00pm - Reception
Location: Des Combes Quad