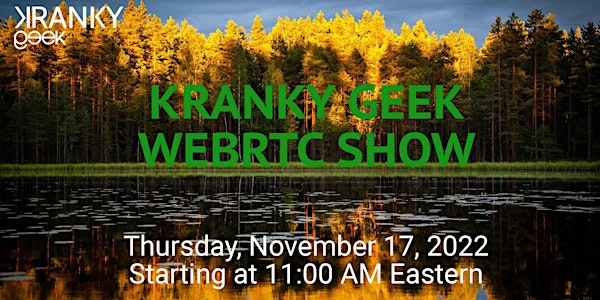 Kranky Geek FALL Virtual 2022
Kranky Geek Fall 2022 is virtual and time to learn the latest on WebRTC which is powering lots of video applications during these times.
About this event
This is the 12th Kranky Geek Event for developers on the topic of real time communications for web and mobile applications. Register now to be reminded about the event AND receive details on joining the live sessions.
Our agenda includes talks on:
Roundtable on Open Source projects for WebRTC
Learn about how Google Meet is using AI
Using machine learning for noise suppression and audio enhancements
WebRTC Network Quality - what you can do
Google's Annual WebRTC Update and what's next
Using WebRTC to scale to 1000's of participants
WebRTC as a replacement for RTMP & HLS
WebRTC in gaming
Advances in audio codecs
Sponsors
This event is made possible by the continued sponsorship of Google and industry support from Daily.co, Krisp.ai and Spearline.
Learn more about this event and agenda at www.krankygeek.com