KPIs: Foundational Elements of Performance Management by the Chicago CFOLC

Thursday, December 8, 2016 from 7:30 AM to 9:30 AM (CST)
Event Details
KPI/ Analytics: The Foundational Elements of Performance Management
Presented by
The Chicago CFO Leadership Council
Thursday, December 8, 2016 @ 7:30 a.m. 

7:30 a.m. - 8:00 a.m. - Breakfast and Networking
8:00 a.m. - 9:30 a.m. - Program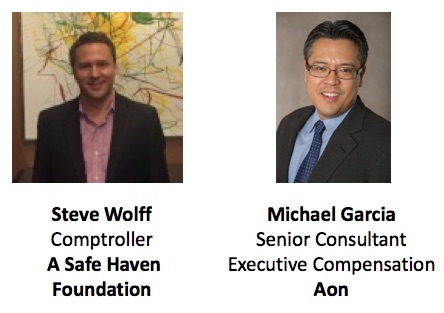 Advancing and realizing organizational performance has become a key initiative of many organizations. CEOs and Boards in most cases look to the CFO and the finance organization to deploy, own and be accountable for the success of these initiatives. A core component of a performance program is the successful development and deployment of key performance indicators (KPI's) and analytics.
 Join a panel who will share their experiences in how they successfully planned and deployed KPI's and analytics and the results they achieved.   Key take-aways for CFOs will include:
Considerations for aligning KPIs with an organization's strategic goals

Key steps for planning and starting deployment of KPIs and analytics

Technology organizations should consider deploying to enable KPI's and analytics

Critical skill sets required to support the initiative

Areas of challenge to consider and how to manage
Speakers
Michael Garcia, Aon - Michael Garcia

 is a Sr. consultant with AON. He works closely with board level

 compensation committees and executive leaders to develop organizational performance metrics and align them with management performance goals and compensation plans.  During his discussion, he will share insights how performance metrics have evolved over time and provide pragmatic examples of how Boards and CFO's can pragmatically apply performance metrics to drive desired and consistent performance by executives and management.

Steve Wolff, A Safe Haven Foundation - Steve Wolff is the Comptroller of A Safe Haven Foundation.  He has vast FP&A experience.  Steve will discuss leading practices around FP&A.  He will also share insights working with Business Unit leaders on establighing performance expectations, analyzing performance results and building corrective actions to drive expected results.
Registration
To register for this program, simply click on the tickets button above. All CFO Leadership Council members can attend this event for free. Non-member senior financial executives who are CFOs, Vice Presidents of Finance, Directors of Finance and Controllers (or the like) are welcome to attend this program for $50. 
Please note that service providers or any executives who are not senior financial executives (CFOs, Vice Presidents of Finance, Controllers, Directors of Finance, etc.) will not be admitted attendance to this event. The CFO Leadership Council reserves the right to decline any registration.
More Information & Refunds:
For more information about this program or The CFO Leadership Council, please contact Emily Smith, Chicago Marketing Director, at emily@cfolc.com. 
If you would like to cancel your ticket or request a refund, please contact Emily Smith, Chicago Marketing Director,  at emily@cfolc.com. Refunds are available up to 24 hours prior to the program.
About Our Speakers:
Michael Garcia is a Senior Consultant in Aon Hewitt's Executive Compensation Practice. He specializes in executive compensation, performance measurement, and incentive plan design.  He has over 15 years of experience working with compensation committees and management on all aspects of compensation for executives, board directors, and broad-based employees.
Mr. Garcia is a lead member of Aon Hewitt's Performance-Pay Team.  This team assists compensation committees and management in choosing performance metrics and setting performance goals for annual and long-term incentive plans as well as evaluating the degree of alignment of pay-to-performance relationships.  This group has also developed Aon Hewitt's methodology for assessing the risk implications of compensation plans and for using the relationship of "earned" pay relative to performance to identify potential areas for improving total program design.
Michael has a Bachelor of Science degree in Finance and International Business from New York University's Stern School of Business.  Prior to joining Aon Hewitt, Michael has been a consultant at Willis Towers Watson and Pearl Meyer and Partners.
He began his career as a Financial Policy Analyst at the consulting firm of Stern, Stewart & Co., where he worked on client engagements focusing on Economic Value Added measurement, implementation, strategy, and incentives.
Steve Wolff is a  multilingual financial and corporate executive with 20+ years solving complex business problems in the U.S. and abroad. Steve has served as CFO, controller and general manager delivering results in profitable and distressed environments, entrepreneurial, family, private equity and large company cultures, and for mature and high growth businesses. He currently is Comptroller of A Safe Haven Foundation, a not-for-profit social business enterprise with a mission to solve the root causes of homelessness and poverty.
After completing his undergraduate degree at Emory University, Steve was selected as one of the first program directors to lead U.S. developmental assistance in the nascent states of the former Soviet Union.  After several years as an expatriate executive, Steve attained his first CFO role while still in his 20s with a subsidiary of Linde AG. one of the largest global industrial gas manufacturers.   Steve also earned an MBA from the University of Chicago Booth School of Business.  From there, Steve followed a controller and FP&A-leadership development track through roles with top U.S. brands Allstate, Hewitt, and Trimble.
When & Where

KPMG
200 East Randolph Street
#5500
Chicago, IL 60601


Thursday, December 8, 2016 from 7:30 AM to 9:30 AM (CST)
Add to my calendar
Organizer
The CFO Leadership Council, is a community of senior financial executives dedicated to developing strong leadership at all professional levels, from Controller to CFO.
Our community is a nationwide group of knowledge seekers from all industries who come together to help solve each other's challenges and celebrate successes.
Learn more at www.cfolc.com 
KPIs: Foundational Elements of Performance Management by the Chicago CFOLC