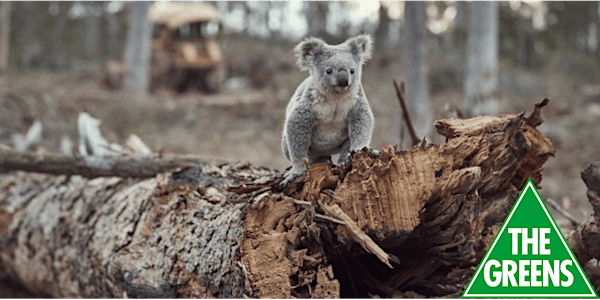 Koala Extinction in NSW - The Facts and Directions for Action
Be informed about the threat of koala extinction in NSW and hear the proposed directions for action.
When and where
Location
Nelson Heather Centre - Banksia Room 5 Jacksons Road Warriewood, NSW 2102 Australia
About this event
Koalas are an iconic symbol of Australia and are at risk of becoming extinct in NSW by 2050, that is unless urgent action is taken. Despite this, the NSW government won't commit to most of the recommendations made by the parliamentary inquiry into saving them.
Join us in a discussion with guest speakers Cate Faerhmann, Ian Darbyshire and John Illingsworth who will each provide a unique and informative perspective on the issue of koala extinction in NSW and tell us what we can do to help save them.
Cate Faehrmann is a NSW Greens MP who has long championed for social and environmental justice. She is passionate about protecting our wild places, repairing climate damage, and putting people and the planet ahead of the vested interests of big business. Cate is the Chair of the vitally important Koala Inquiry, established in June 2019 to inquire into and report on koala populations and habitat in NSW.
Ian Darbyshire was appointed CEO of the Foundation for National Parks and Wildlife (FNPW) in 2016. He is responsible for the implementation of the organisation's short and long term strategic plans, as well as its day to day operations. FNPW has been involved in many initiatives to preserve the habitat and survival of koalas, including tree planting initiatives, koala inoculant research and working with various councils who have developed their own Koala Management plans.
John Illingsworth has been an active environmentalist and community icon for several decades. With a film industry background and a bachelor's degree in land processes and Indigenous studies, John has created several films that speak to the preciousness of our land and resources. John remembers growing up with koalas in Sydney's Northern Beaches.
The event will commence at 7pm in the Banksia Room of the Nelson Heather Centre Warriewood, please be on or ahead of time. The Nelson Heather Centre is fully accessible with 10 accessible parking spaces on site and other off street parking, and is a short walk from the Warriewood B-Line bus stop.
Registrations are essential due to COVID-19 restrictions, so please register for FREE and secure your spot. Your ticket will be checked upon arrival. Please stay home if you feel unwell, have a cough, fever, sore throat, fatigue, shortness of breath or any other flu-like symptoms or if you have been to a COVID-19 hotspot in the past 14 days.