Modern society focuses on mental tasks and intellect, and creates an artificial divide between mind and body.
About this event
Your emotions, your body, the things you feel hold the key to your healthy boundaries.
In this workshop, we will 
Explore what you already know you want or don't want, 
Reveal the emotional reactions and physical sensations that indicate when a boundary exists, and 
Identify your indicators that a boundary is about to be crossed.
At the end of the workshop, Coach Steve will stay on to answer any questions and provide coaching for as long as is needed. Only through awareness first can we begin to impact our lives.
"We are taught to repress what we feel for the purposes of being polite and getting along with others. These lead to resentment and breakdowns in the long-run.
"Someone with strong boundaries is attuned to their bodies and emotions so that they know when a boundary is close, and can communicate it."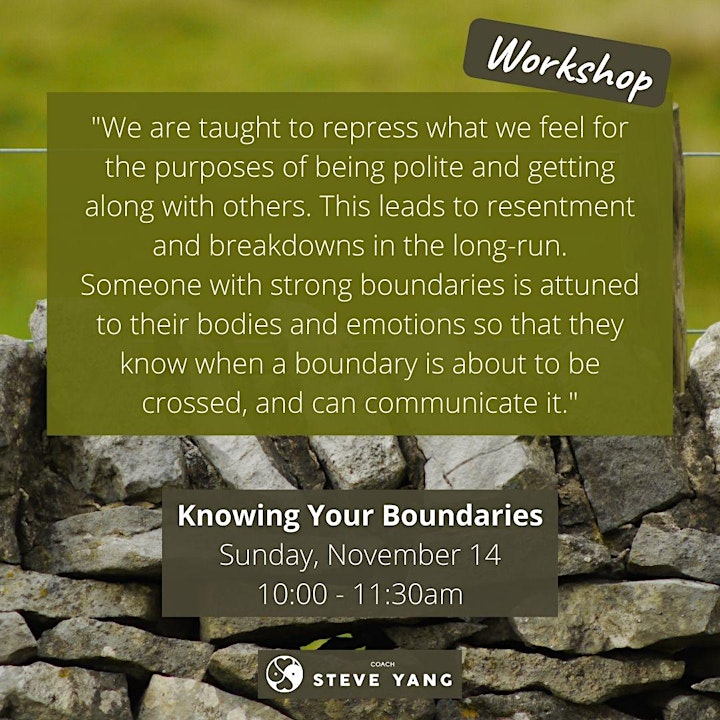 Date and time
Location
Refund policy
Organizer of Knowing Your Boundaries workshop
After 8 years of coach training and experience, I have honed my listening so I can very quickly identify what your key struggle is, and the action needed to transform it. I communicate clearly and honestly, and deliver it with compassion and empathy. My truth-seeking nature will uncover who you really are right now, so you can move forward with true confidence and self-assuredness.
My coaching is action and results oriented. I understand the value of living on the growing edge of the comfort zone. I'm most effective with people who have a growth mindset and are willing to put in the work. With me, we'll not only get to the center of what's stopping you, but also have a plan of action to get you to where you want to be!