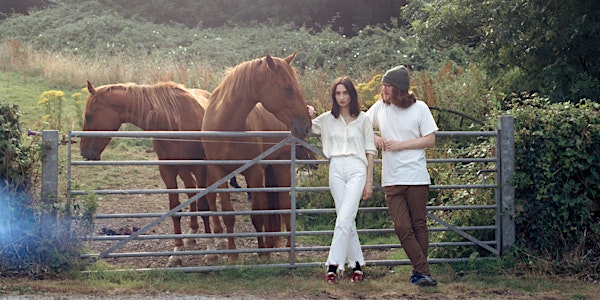 Event Information
Location
Doug Fir Lounge
830 E. Burnside St.
Portland, OR 97214
About this event
PROOF OF COVID-19 VACCINATION OR NEGATIVE TEST REQUIRED FOR ENTRY
Doug Fir is currently requiring COVID-19 vaccination proof, or proof of a negative Covid-19 test result, taken within 48 hours prior to entry.
For full, up to date information, please visit dougfirlounge.com/covid
THIS EVENT IS 21+
VALID U.S. ID OR PASSPORT REQUIRED
ALL SALES ARE FINAL
KING HANNAH's debut full length album, I'M NOT SORRY, I WAS JUST BEING ME – an inspired melding of American influences as diverse as Red House Painters, Mazzy Star and Smog with more British sources like PJ Harvey and Portishead – offers a stunning showcase of the Liverpool duo's talent, its dozen songs full of darkness and wit, mesmerising and thrilling in equal measures. Indeed, titles are rarely more impeccably chosen than the one Wales-born Hannah Merrick and local boy Craig Whittle have chosen. At once a humble clarification and a stubborn challenge, it not only sums up the duo's single-minded vision and their determination to remain true to themselves, but also offers a glimpse of the wry, knowing humour lurking in the shadows of the record. At times it's like listening to dusty jukebox 7" singles from the late 1950s played at half speed, and at others like Cowboy Junkies forced to play The Trinity Sessions at knifepoint with a pounding whiskey hangover.
*Photo by Katie Silvester
Since 2009, Ezza Rose Band has been cultivating a sound of their own. Drawing on several influences from the likes of Mazzy Star, Patti Smith, and their residency in Portland, ERB writes and performs music which reflects the listeners' lives back at them while hinting at a new perspective. The fluidity of love, the ebb and flow of relationships, and getting caught in the machine of expectations, all are deconstructed with flowy rhythm, aggressive electric guitars, and dreamy vocal melodies.
"More electrified and slightly more ominous than the simple, lilting sound she previously established, this is Rose at her best so far." - Willamette Week
Date and time
Location
Doug Fir Lounge
830 E. Burnside St.
Portland, OR 97214
Refund policy