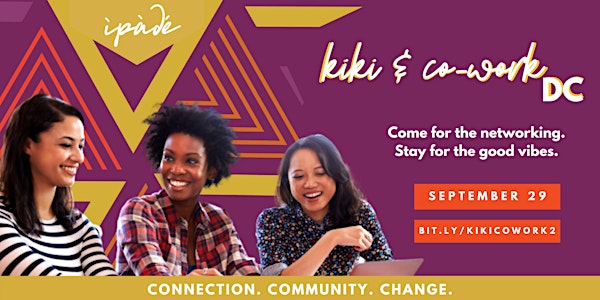 Kiki & Co-Work DC
Kiki & Co-Work DC is an indoor/outdoor co-working experience centering and celebrating Black, Indigenous, and women and femmes of color!
When and where
Location
Brllnt 1140 3rd Street NE Washington, DC 20002
About this event
Community can't wait!
Times are tough and we need community more than ever! Kiki & Co-Work DC is an indoor and outdoor co-working experience centering and celebrating Black, Indigenous, and women and femmes of color (BIWOC), happening Wednesday, September 29th!
Ìpàdé is a DC-based co-working space and community of support for women of color entrepreneurs, changemakers, professionals, and creatives. At Ìpàdé, we come together to grow personally and professionally and build power for positive impact.
On September 29th, we're bringing you one exciting day of stellar networking, wellness and branding workshops, and good vibes with Black women and femmes of color who are making big moves! At Kiki & Co-Work DC you'll have the opportunity to:
Meet new people and network with bold and inspiring BIPOC women and femmes
Gain new connections, clients, and partnerships
Learn about brand strategy from the experts at Brllnt creative studio
Hear from expert Afua Osei about corporate partnerships strategy
Get zen with certified yoga and meditation instructor, Amanda L. Paul
Get some work done in an inspiring and supportive environment
At Kiki & Co-Work DC, you'll find indoor and outdoor co-working and networking space and amenities like coffee, tea, water, and snacks to keep you fueled.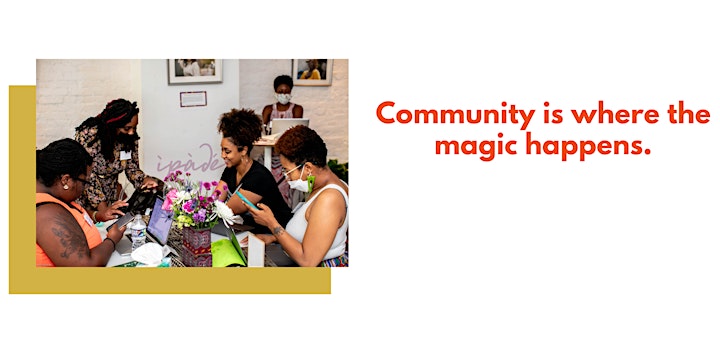 You don't have to work from home or work alone. We got you!
Our community members are entrepreneurs, side hustlers, non-profit leaders, activists, philanthropists, and creatives across industries and sectors. What unites us is a passion for making social impact for Black and Brown people and a drive to do and be our best. We know this happens in and through community.
Together, we've learned how to move from idea to impact, organized our lives to have more time for the things we care about, made self-care and self-love a priority, and built skills through professional development to create change. We've co-worked virtually and connected each other to valuable resources we need to be successful. And we've inspired each other through honest, authentic storytelling and conversation.
Community is critical during these times! That's why we're coming together as safely as possible (masks are required, vaccines strongly suggested). If you're looking for a place to connect with like-minded individuals and thrive with the support of Black women and femmes of color, join us!

Join us for Kiki & Co-Work DC!
9:00 - 6:00 PM - Co-working Hours
9:00 - 9:30 AM - Yoga and Meditation by Amanda L. Paul, Audacious Black Girl and certified meditation and yoga teacher
12:00 - 12:30 PM - BYO Lunch and Learn on corporate partnerships strategy by Afua Osei
3:00 - 4:00 PM - Brand Strategy Workshop by Brllnt, a DC-based creative studio

Meet the Founder!
Elizabeth Dawes Gay (she/her) is a social entrepreneur whose life mission is to create a world where womxn of color have what they need to achieve their ideal well-being and thrive, personally and professionally. Elizabeth created Ìpàde to be a space where womxn of color are seen, centered, and celebrated. She believes that when WOC flourish, the world changes.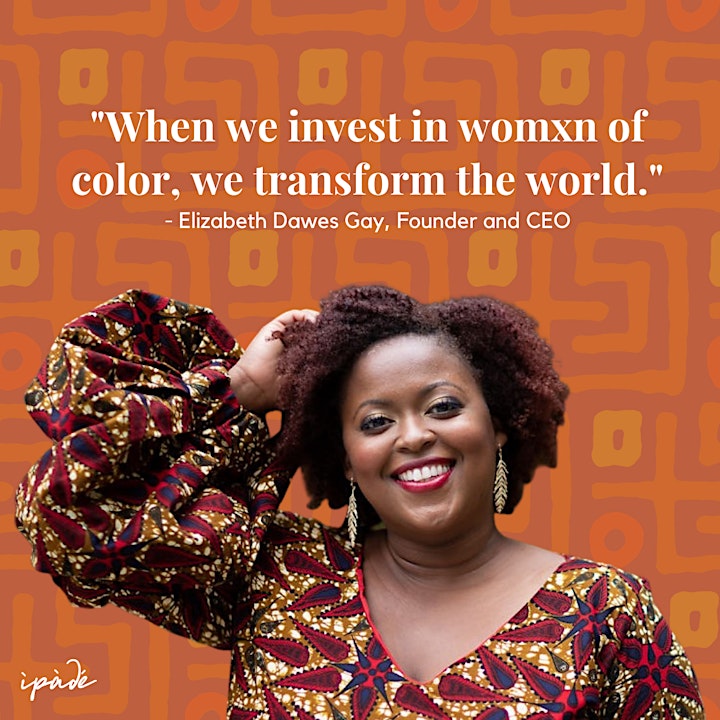 Masks are required indoors regardless of vaccination status. COVID-19 vaccines are strongly encouraged. We will follow all COVID-19 protocols current as of the event start date, September 29, 2021. Indoor and outdoor co-working space is available. Hand sanitizer and sanitizing wipes will be available. The number of attendees is limited for your safety.
Please Note:
Your attendance at this event is taken as permission to use your likeness in photographs, videos, or other digital media for promotional purposes on Ipade's owned media accounts and assets.
This location is wheelchair accessible.
This is a safe space for people of color who identify as women, femmes, or gender non-binary. We ask that white allies respect the sanctity of this space.
Tickets are NON-REFUNDABLE. Community access pricing is available for people who have a financial need! Just send us a message.
Still have questions? Get in touch with us here.
THANK YOU to our host, Brllnt!