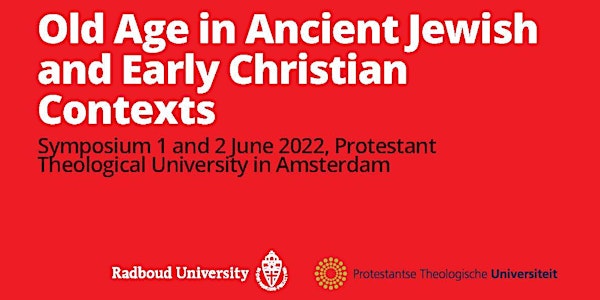 Keynote Lecture: Prof. Mira Balberg,"The Ageless Self and the Selfless Age"
Mira Balberg's keynote lecture (w/ Haim Weiss) on "The Ageless Self and Selfless Age" as part of Symposium on "Old Age" in Antiquity
By Albertina Oegema and Seth Bledsoe
Date and time
June 1, 2022 · 10am - June 2, 2022 · 11:30am PDT
About this event
The Protestant Theological University, Amsterdam and the Faculty of Philosophy, Theology, and Religious Studies at Radboud University, Nijmegen kindly invite you to join us via Zoom at the Keynote Lecture for the Syposium on Conceptualizing "Old Age" in Ancient Jewish and Christian Contexts, which will be given by Prof. Mira Balberg (UC San Diego), in consultation with Prof. Haim Weiss (Ben Gurion) on the evening of June 1, 2022, 19:00-20:30 (Amsterdam/local time). The title of the lecture is "The Ageless Self and the Selfless Age."
Registered participants will receive a Zoom link to virtually attend the lectures. There may be an opportunity to ask questions after the lecture via the chat function.
Topic/Occasion
The lecture is the keynote address for the symposium "Conceptualizing Old Age in Ancient Jewish and Christian Contexts" organized by Albertina Oegema (PThU) and Seth Bledsoe (RU). The symposium will be held the following day in person at the PThU campus in Amsterdam (separate registration). The lecture represents a further extension of the groundbreaking study of "old age" in early Rabbinic literature, published by Balberg and Weiss (When Near Becomes Far, Oxford 2021).
The lecture and the symposium aim to examine and map out the many conceptual varieties of "old age" among a diverse group of texts and contexts, particularly those coded as Jewish or Christian, but with the understanding that these communities and their discourses are part and parcel of a much larger historical and cultural continuum in the ancient Mediterranean world, broadly conceived. How, for example, did the various Jewish and Christian communities in the ancient Mediterranean world respond – whether discursively or through other social mechanisms – to the observed and/or imagined psychosomatic changes associated with old age? How was old age (in)formally signified in these respective communities? What social roles and attendant responsibilities, constraints, and privileges, were afforded the elderly? What sorts of norms and values were associated with senescent identifications? Even a passing consideration of "old age" in an ancient context reveals several different, sometimes conflicting, conceptualizations. Of particular interest is how these studies may speak to the complexities of early Jewish and Christian identify formations from the Second Temple period through Late Antiquity.
Program for Keynot Lecture on Wednesday, 1 June, 2022
19:00–19:10 Albertina Oegema & Seth A. Bledsoe, Opening
19:10–20:00 Keynote Lecture: Mira Balberg (University of California San Diego) w/ contributions from Haim Weiss (Ben Gurion University), "The Ageless Self and the Selfless Age"
20:00–20:30 Discussion
Program for Symposium on Thursday, 2 June, 2022
09:00–09:30 Informal Opening & Coffee/Tea
09:30-09:40 Albertina Oegema & Seth A. Bledsoe, Opening
09:40–10:50 Session A: Old Age & Masculinity
09:40-10:15 Peter-Ben Smit (Vrije University/Utrecht University), "Beyond Gender: Polycarpus's Martyrdom at the Intersection of Old Age and Masculinity"
10:15-10:50 Larry L. Welborn (Fordham University), "The Anxious Old Man"
10:50–11:10 Coffee/Tea Break
11:10–12:20 Session B: Old Age & the Family
11:10-11:45 Klaas Spronk (Protestant Theological University), "A Happy Ending: Jacob's Final Years as the Ideal of Old Age in Tanakh"
11:45-12:20 Seth A. Bledsoe (Radboud University), "Old Age, Gender, and Reciprocity"
12:20–13:30 Lunch Break
13:30–14:40 Session C: Old Age & Wisdom
13:30-14:05 Barry Hartog (Protestant Theological University), "Wisdom Comes With Age? Old Age and Knowledge in Ancient Jewish Literature"
14:05-14:40 Lieve Teugels (Protestant Theological University), "New Wine in Old Bags? Torah, Wine, Wisdom and Age in Rabbinic Literature"
14:40–15:00 Coffee/Tea Break
15:00–16:45 Session D: Social Status of the Elderly
15:00-15:35 Silvana Dayan Delatte (University of Fribourg), "Making Sense of Diverse Conceptualizations of Old Age in Classical Athens: Norms and Values Associated to Senescence in Literary and Visual Sources"
15:35-16:10 Christoph Michels (University of Münster), "The Social Implications of Old Age in Imperial Rome"
16:10–16:45 Albertina Oegema (Protestant Theological University), "The Marginalisation of the Elderly in Early Rabbinic Literature"
16:45-17:00 Albertina Oegema & Seth Bledsoe, Final Words
17:00 Reception w/ drinks & light hors d'oeuvres