Description
NGI is excited to welcome Dr. Will Cole for a special book signing and Q&A for his new book, Ketotarian.
Agenda:
1:00 pm - 1:30 pm Meet & Greet with Dr. Cole with samples from his book

1:30 pm -2:00 pm Q&A moderated by Liz Moody of mindbodygreen

2:00 pm - 3:00 pm Book Signing
About the book: The keto craze is just getting warmed up. The ketogenic diet kick-starts your body's metabolism so it burns fat instead of sugar as its primary fuel. But most ketogenic plans are meat- and dairy-heavy, creating a host of other problems, especially for those who prefer plants at the center of the plate. Dr. Will Cole comes to the rescue with Ketotarian, which has all the fat-burning benefits without the antibiotics and hormones that are packed into most keto diets. Adding a plant-based twist, Ketotarian includes more than 75 recipes that are vegetarian, vegan, or pescatarian, offering a range of delicious and healthy choices for achieving weight loss, renewed health, robust energy, and better brain function. Packed with expert tips, tricks, and advice for going--and staying--Ketotarian, including managing macronutrients, balancing electrolytes, and finding your carb sweet spot, this best-of-both-worlds program is a game-changer for anyone who wants to tame inflammation and achieve peak physical and mental performance. Let the Ketotarian revolution begin!
About Dr. Will Cole: Dr. Will Cole, leading functional-medicine expert, consults people around the world via webcam at www.drwillcole.com and locally in Pittsburgh, Pennsylvania. He specializes in clinically investigating underlying factors of chronic disease and customizing health programs for thyroid issues, autoimmune conditions, hormonal dysfunctions, digestive disorders, and brain problems. Dr. Cole was named one of the top fifty functional-medicine and integrative doctors in the nation and is a health expert for mindbodygreen and goop. Dr. Cole is the author of the book, Ketotarian in which he melds the powerful benefits of a ketogenic diet with a plant-based one.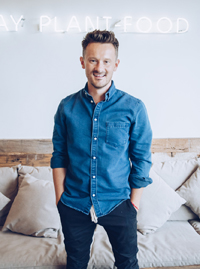 About Liz Moody: Liz Moody is the Food Director at mindbodygreen. She's contributed to Glamour, Women's Health, Food & Wine, goop, and many other publications and is the woman behind the healthy food blog Sprouted Routes and Instagram account @lizmoody. Her first cookbook, Glow Pops: Super-Easy Superfood Recipes to Help You Look and Feel Your Best, was released by Clarkson Potter/Random House in April 2017. She's a known green smoothie pusher and will rarely turn down a fresh-baked chocolate chip cookie.