Kendra Scott x GC4W Circle VIP Holiday Party (In-Store Event)
Celebrate the Holiday Season with Us and Shop for Cause.
About this event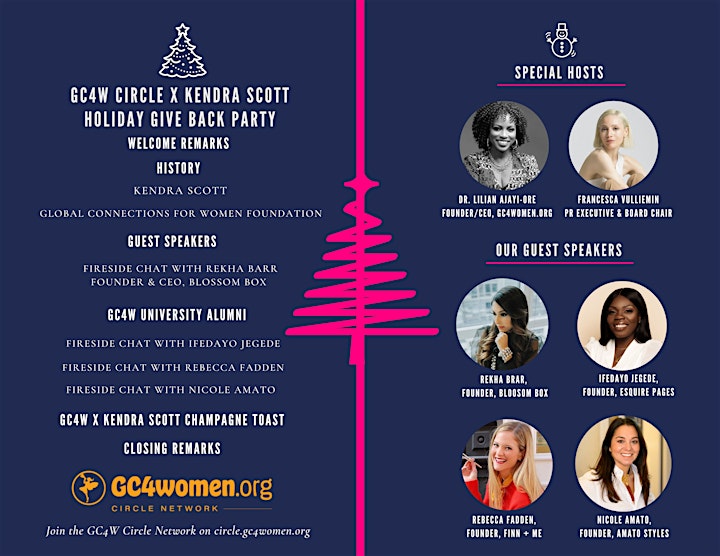 Celebrate the holiday season with us and shop for a cause at the upcoming Kendra Scott and GC4W Circle VIP holiday party on Saturday, Dec. 18th, 2021, at the Soho, NYC Retail Store.
Join us for Champagne n' conversations, Holiday Gift Exchanges, Conversations, Raffle Prizes, Games, and Last Minute Shopping. Meet our board members, GC4W University Alumni, business leaders, founders, and guests — as we reacquaint to exchange ideas, share stories, and network.
Kendra Scott and the Global Connections for Women Foundation (GC4W) are committed to promoting female confidence, entrepreneurial mindsets, and community. We recognize that confidence, resilience, and community is important to ensure the growth of female leadership and female entrepreneurship.
This holiday give back event is a chance to celebrate Female Confidence, Female Entrepreneurship, and Girl BOSS. The proceeds from this holiday event will benefit the GC4W Entrepreneurship program, which trains and develops female entrepreneurs in new ways to scale their businesses and improve their leadership skills.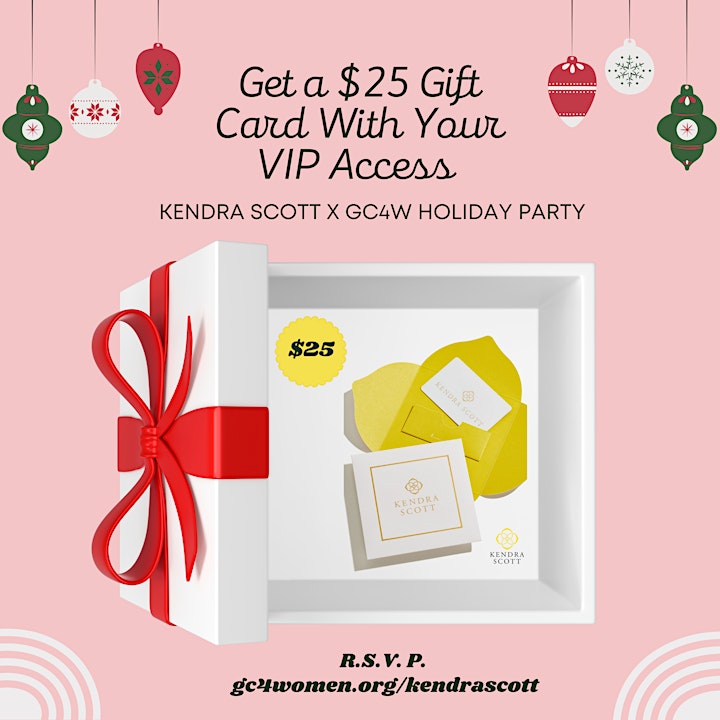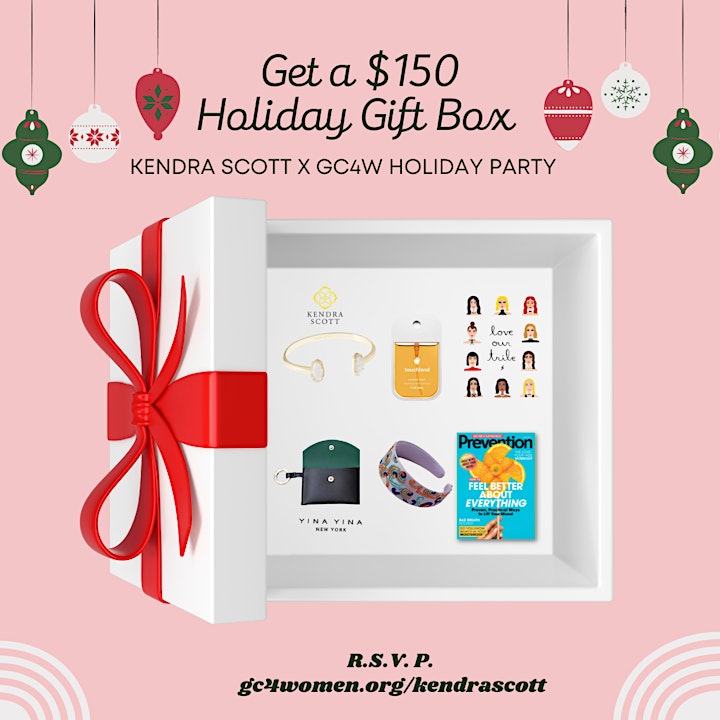 Guests at the event will receive the following unique gifts based on their ticket admission access:
A goodie bag filled with holiday treats and customized surprises.
Guest with VIP Access will receive a $25 Kendra Scott gift card.
Kendra Scott x GC4W Holiday Gift Box
Online participation is permitted, guests looking to join us online will be sent their gifts through the mail, and a Zoom invitation link will be shared to join us in real-time.
Kendra Scott and GC4W will enforce safety protocols, including:
a limited number of total guests at the space
vaccination card checks at the door
limit contact with a no-handshaking rule
maintain physical distancing while in the venue
required to use a contact-less hand sanitizer upon entry
guests must confirm their reservations ahead of time
no one without reservations will be allowed access into the venue
Tickets are limited and will sell out soon. Therefore be sure to confirm your reservations at the very earliest.
Organizer of Kendra Scott x GC4W Circle VIP Holiday Party (In-Store Event)