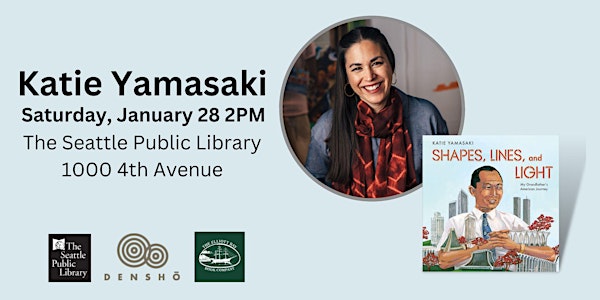 Katie Yamasaki discusses "Shapes, Lines, and Light"
Learn more about the life and legacy of Minoru Yamasaki, the architect who designed Pacific Science Center at this all-ages event.
When and where
Location
Seattle Public Library-Central Library 1000 4th Ave Seattle, WA 98104
About this event
This event is close to selling out. lf the event sells out, there still may be limited availability due to last minute cancellations. You can join the standby line for first come, first served seating.
The standby line will form at Central Library on Level 1, near the Microsoft Auditorium.
Katie Yamasaki's newest picture book celebrates the life of her grandfather, the acclaimed Japanese American architect Minoru Yamasaki.
About the Speaker:
Katie Yamasaki is a muralist and children's book artist. She has traveled widely, painting over 80 murals with diverse communities around the world that explore local issues of identity and social justice. Her children's book work focuses on similar themes of social justice and stories from underrepresented communities. Her most recent book is "Shapes, Lines, and Light." She is also the author and illustrator of "Dad Bakes," "Everything Naomi Loved"(with Ian Lendler), "When the Cousins Came," and "Fish for Jimmy." Katie worked for 14 years as a Spanish and Art teacher in the Detroit and New York City public schools. Currently, she is beginning a multi-year residency with New York's Women and Justice Project and is a teaching artist at The Center for Fiction in Brooklyn. Learn more at www.katieyamasaki.com or on her Instagram page, @katieyamasaki.
About the Book:
Minoru Yamasaki described the feeling he sought to create in his buildings as "serenity, surprise, and delight." Here, Katie Yamasaki charts his life and work: his childhood in Seattle's Japanese immigrant community, paying his way through college working in Alaska's notorious salmon canneries, his success in architectural school, and the transformative structures he imagined and built. A Japanese American man who faced brutal anti-Asian racism in post–World War II America and an outsider to the architectural establishment, he nonetheless left his mark on the world, from the American Midwest to New York City, Asia, and the Middle East.
This striking picture book renders one artist's work through the eyes of another, and tells a story of a man whose vision, hard work, and humanity led him to the pinnacle of his field.
The event is presented in partnership with Densho and Elliott Bay Book Company. This event is supported by The Seattle Public Library Foundation and author series sponsors the Gary and Connie Kunis Foundation. Thanks to media sponsor The Seattle Times.