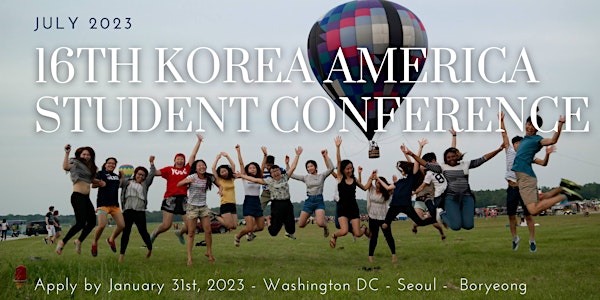 KASC 16 Information Session
Join us for a KASC 16 Information Session in January to find out more about our upcoming summer Conference!
About this event
To learn more about the 16th Korea-America Student Conference (KASC), please sign up for one of our information sessions.
Sessions will be held over Zoom for up to one hour. You will have the opportunity to meet the Executive Committee, learn more about our 2023 in-person Conference programming, receive application tips, and ask any questions that you may have. During the session, you may ask questions in either English or Korean.
The next information sessions will be:
Session One: January 25th at 7 AM (EST) / January 25th at 9 PM (KST)
Session Two: January 25th at 9 PM (EST) / January 26th at 11 AM (KST)
These information sessions will be a joint sessions for both American and Korean applicants, so there will only be one ticket option available during registration for each date. Please note that the tickets for January 25th at 7 AM (EST) is the same ticket for January 25th at 9 PM (KST). Remember to convert your time zone accordingly!
We can't wait to see you there!
If you have any questions in the meantime, please feel free to reach out to us at kasc@iscdc.org or visit KASC website at iscdc.org/kasc/.
More information about this event and KASC can also be found on our Facebook and Instagram pages.