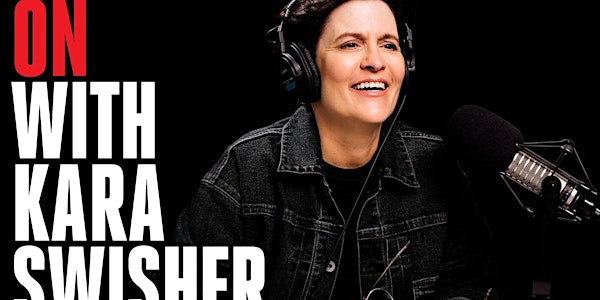 Kara Swisher & Katie Porter: Silicon Valley Bank, Corporate Greed & Senate
On with Kara Swisher" pod taping with Rep. Katie Porter. They'll discuss SVB, the economy & Porter's bid to replace Feinstein in the Senate.
When and where
Date and time
Sunday, March 19 · 1:30 - 3pm PDT
Location
Manny's 3092 16th Street San Francisco, CA 94103
Refund Policy
Contact the organizer to request a refund.
About this event
Technology reporter, columnist, and podcasting queen Kara Swisher will interview Katie Porter the California Congresswoman and Member of the House Committee on Oversight and Reform and ranking member of the Subcommittee on Economic and Consumer Policy for her podcast "On with Kara Swisher"
They will discuss Rep. Porters' running for to represent California in the U.S. Senate, technology policy, the recent failing of Silicon Valley Bank, the proper level of government regulation and oversight, and what it all means and more.
A timely conversation not to be missed!
Manny's never turns away someone due to lack of funds. If you need a complimentary ticket, please email the title of the event and the word "grapefruit" to angelina@welcometomannys.com
All ticket revenue goes to support Manny's - not to any political campaigns.
Want to support community members? By purchasing a "Pay It Forward" ticket you will allow us to provide free tickets to those who may not be able to afford entry otherwise and ensure we can create a diverse socio-economic audience that represents San Francisco.
** By purchasing a "Pay it Forward" ticket you will be invited to a 15 minute pre-reception with Congresswoman Porter and Kara Swisher**
About Congresswoman Katie Porter:
Congresswoman Katie Porter represents the 47th Congressional District in Orange County, California.
In Washington, Congresswoman Porter has remained committed to putting families first and speaking truth to power. As a member of the House Oversight Committee, she's asked tough questions of bank CEOs and administration officials to hold them accountable to the American people. S he is the Ranking Member of the Subcommittee on Health Care and Financial Services.
Eager to invite families into the conversations happening in the halls of Congress, Rep. Porter has developed a reputation for her use of visual aids during Congressional hearings. She brought out a whiteboard while grilling the CEO of JP Morgan Chase, Jamie Dimon, over how an entry-level employee at his bank couldn't make ends meet. She also used her signature whiteboard to break down potential cost barriers to COVID-19 tests, which helped her secure a commitment from the Trump Administration to make testing free for every American.
Porter's congressional questioning has helped push Congress towards real, concrete solutions. She received widespread praise after using her whiteboard to debunk propaganda spread by Big Pharma on why the industry charges so much for drugs. Porter's legislation to crack down on Big Pharma's unfair price hikes was then signed into law, and it is in effect as of January 1, 2023. She has also authored new laws to boost accountability in government, raise fees on polluters, improve mental health coverage, make health care more affordable, and honor an Orange County hero.
As a single working mom, Rep. Porter knows firsthand about the challenges that families face. She's introduced bipartisan legislation that would more than double the amount families can set aside pre-tax to help pay for preschool, summer day camp, before or after school programs, and child or adult daycare. She's continued to press for restoring more of the State and Local Tax (SALT) deduction, which has hit California's middle-class families especially hard.
Rep. Porter believes our democracy and government should reflect the people of America and serve their needs, not special interests or corporate donors. As a progressive, she's a leader in the fight to protect taxpayers and crack down on waste, fraud, and abuse. In Congress, she's a key voice for ending political corruption, increasing government transparency, and holding leaders of both parties accountable. She's matched her commitment to transparency with concrete action by hosting regular town halls and publicly posting a list of meetings she takes.
Before coming to Congress, Rep. Porter spent nearly two decades taking on the special interests that dominate American politics and drown out the voices of working families—and winning. A lifelong consumer advocate, she taught bankruptcy law at the University of California, Irvine School of Law. As California's independent watchdog against the banks, she oversaw big banks that had cheated Orange County homeowners to get them to follow through on their promise to help families get back on their feet. As a consumer finance expert, Congresswoman Porter also helped Congress pass the original Credit CARD Act in 2009, which enacted federal protections from abusive credit card fees.
Rep. Porter is a single mom of three school-aged kids. She lives with her family in Irvine, California.
About Kara Swisher:
Kara Swisher is the host of "On with Kara Swisher" and the former host of "Sway," the twice-weekly interview podcast about power by New York Times Opinion. She was a contributing Opinion writer at the New York Times since 2018 and writes a weekly newsletter.
Over her career, Ms. Swisher has hosted hundreds of newsmaking interviews, going head-to-head with prominent figures including Elon Musk, Mark Zuckerberg, Rupert Murdoch, Stacey Abrams, Kim Kardashian and President Barack Obama. Her early and no-holds-barred coverage of the technology industry earned her a reputation as "Silicon Valley's most feared and well-liked journalist."
Ms. Swisher studied at Georgetown University's School of Foreign Service, where she wrote her first technology story for the school paper (it was in 1980 — and the technology was pay phones). She subsequently received a graduate degree from Columbia University's School of Journalism, became an editor at The City Paper in Washington, D.C., and interned at The Washington Post, where she worked her way up to reporter and covered nascent digital companies like America Online (a.k.a. AOL).
Ms. Swisher moved to the San Francisco bureau of The Wall Street Journal in the 1990s as one of the first reporters on the internet beat and eventually began her popular "Boom Town" column. With her longtime collaborator Walt Mossberg, she was a co-producer of the technology conference "D: All Things Digital," where they interviewed major tech figures including Steve Jobs and Bill Gates. The duo later founded Recode, which was sold to Vox in 2015.
In addition to her contributions to The Times, Ms. Swisher is an editor-at-large at New York Media, host of the "Pivot" podcast and executive producer of the Code Conference. She is the author of "aol.com: How Steve Case Beat Bill Gates, Nailed the Netheads and Made Millions in the War for the Web," co-author of the sequel, "There Must Be a Pony in Here Somewhere," and currently penning a memoir that will be released by Simon and Schuster in 2022. She has previously appeared and consulted on "Silicon Valley," a show by HBO, which is now a part of WarnerMedia, and also hosts a companion podcast for season three of HBO's "Succession."
She currently lives in Washington with her wife, various cats and dogs, and her three children.