JVM Meetup #52 : Tech Talk with Microsoft
About this event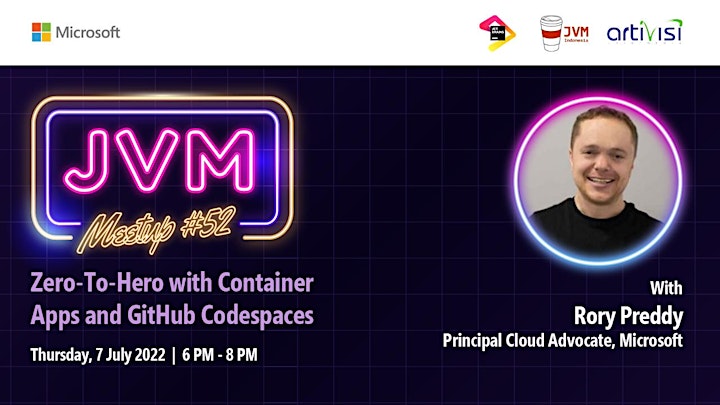 JVM Meetup #52 : Tech Talk with Microsoft
Thursday, July 7th 2022
JVM Meet Up is a periodic community-based event discussing about nuts and bolts of programming language using Java VM platform. As you all may know, there are lots of programming languages that run on top of Java VM; such as Java itself, Groovy, JRuby, Jython, Clojure, Scala and Kotlin.
Agenda:
18.00 - 18.30 Check In & Networking
18.30 - 18.45 Opening & Welcoming from JVM Developer ID
18.45 - 19.00 Opening & Welcoming from AJAIB
19.00 - 19.45 Rory Preddy (Principal Cloud Advocate Microsoft): "Zero-to-Hero with Container Apps and GitHub Spaces"
19.45 - 20.15 Question & Answer (QnA) Session
20.15 - 20.20 Closing Remark
Event Name: JVM Meetup #52 : Tech Talk with Microsoft
Note:
* Free Meal / Snack for first 100 attendee. First come first served.
*The FAQ*Q:
Is this event free?
A: Yes, it is.
Q: Who are the target audience?
A: The target audiences are students, developers, coders, programmers, engineers and related professions.
Q: Can I come even if I haven't RSVP yet?
A: This meetup has a restricted space, thus it's mandatory to RSVP
Q: Is it okay to come late?
A: Yes, just come and join.
Happy Coding.
Regards, JVM Developer Indonesia Organizers
Telegram:            https://t.me/JVMUserGroup
Instagram:          https://www.instagram/jvmindonesia 
Eventbrite:          https://www.jvmindonesia.eventbrite.com
YouTube:             https://www.youtube.com/channel/UCXwXmQEQySqhqAMmys4N56w
LinkedIn:              https://www.linkedin.com/in/jvm-indonesia-9ba49b142
FB FP:                    https://www.facebook.com/JVMDeveloperID
FB Group:            https://www.facebook.com/groups/ForumJavaIndonesia