JUST Annual Lecture by Professor Ilan Pappe
About this Event
ABOUT THE SPEAKER: Ilan Pappe is the Director of the European Centre for Palestine Studies and a fellow of the Institute of the Arab and Islamic Studies at the University of Exeter. He was born in Haifa and received his BA from the Hebrew University in Jerusalem and taught in the University of Haifa until 2007. In those years he was also the chair of the Emil Touma Institute for Palestinian Studies in Haifa. Since 2007, he teaches at the University of Exeter in Britain.
Pappe is the author of twenty books and of many articles on the history of the Middle East in general and of Palestine in particular. Among his works are A History of Modern Palestine: One Land, TWO Peoples (2003); The Ethnic Cleansing of Palestine (2007) and On Palestine (with Noam Chomsky) (2014). His most recent book is The Biggest Prison on Earth: A History of the Israeli Occupation (2018).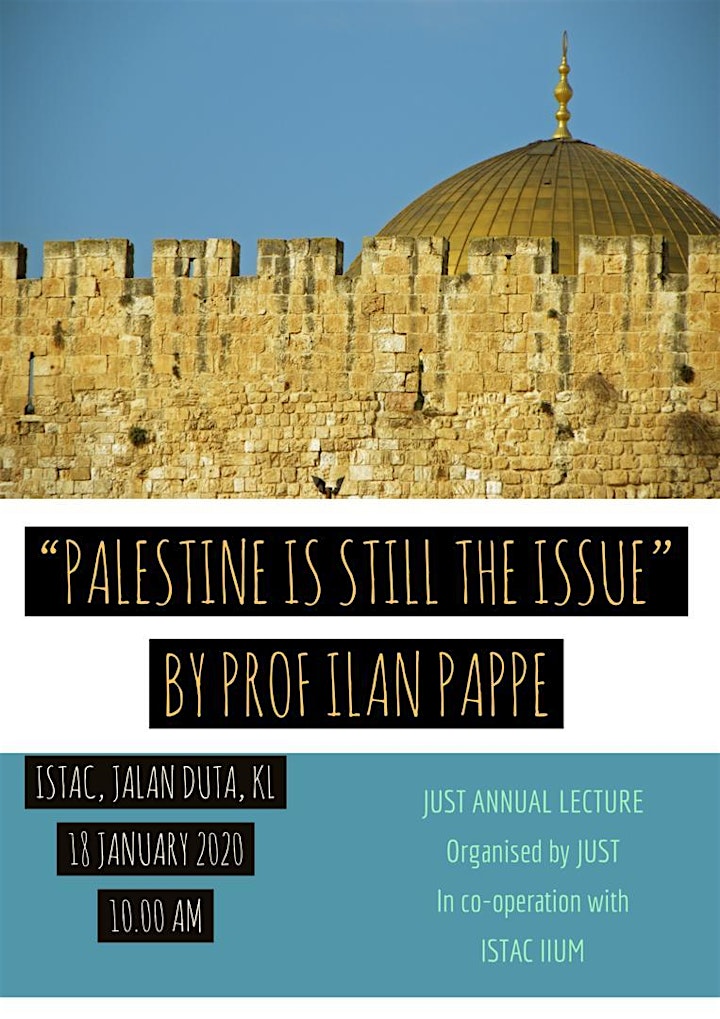 ABSTRACT: While the Arab World is embroiled in civil wars and the making of a catastrophic refugee problem since 2012, the international community tends to forget about the Palestine issue. However, the ongoing conflict in Palestine is associated closely with events in the region as a whole. In fact, without a just solution to the Palestine question, it would be nearly impossible for the international community to engage in a constructive way with the recent and horrific abuses of human and civil rights in the Arab world. Such an approach requires revisiting the Palestinian Nakba (catastrophe) and the reassessment of the impact of the Zionist settler colonial ideology on the chances for reconciliation and peace in historical Palestine and in the region as a whole.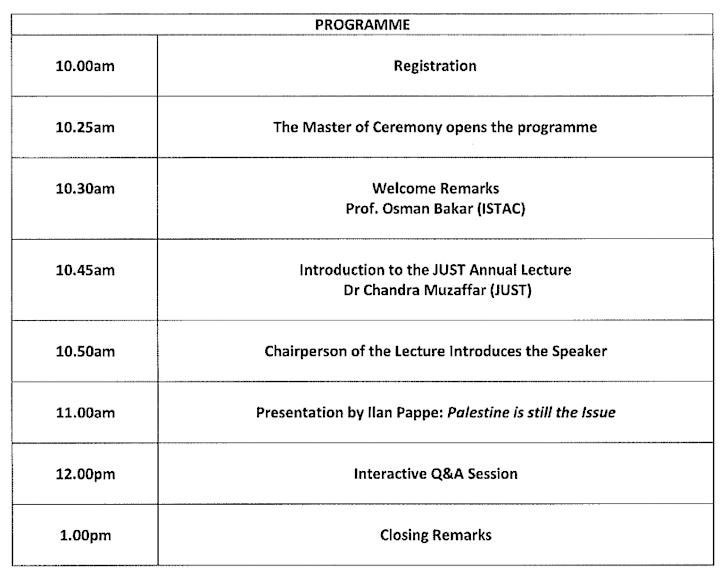 Light Refreshments will be served after the event
If you need further clarification, kindly get in touch with JUST at: hassanal@just-international.org. Or call Hassanal or Haida at 03-77812494 or 77812497 or 77720773