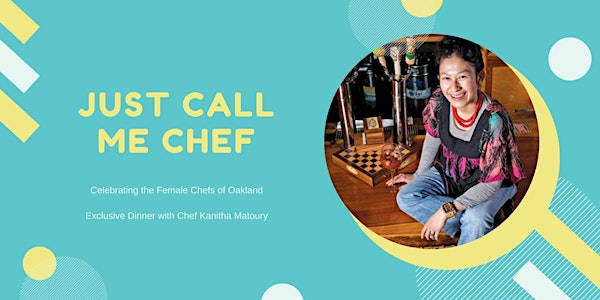 Just Call Me Chef Dinner Series Featuring Chef Kanitha Matoury
When and where
Location
Spice Monkey Restaurant & Bar 1630 Webster Street Oakland, CA 94612
Description
Join us on the second of our "Just Call Me Chef" dinner series where we are shining the spotlight on the extraordinary female chefs of Oakland in celebration of the 100th Anniversary of Women's Suffrage in the U.S.

Join us on January 16th at 7 pm for an incredibly delicious dinner with Chef Kanitha Matoury from Spice Monkey Restaurant & Bar. We will get to know this amazing chef personally as she recounts her journey to owner and chef of Spice Monkey all while enjoying a multi-course meal of her delicious Globally Inspired Cuisine.
About Chef Kanitha Matoury

Chef Kanitha Matoury is best known for her welcoming personality and her expression of creativity through spice-blends, loose leaf tea creations and serving nourishing food.

She has been a dynamic entrepreneur since 2005 when she owned her first cafe in San Francisco. Kanitha is a visionary, project creator and doer. She's passionate about building community and making dreams come true when others do not believe it's possible.
About Just Call Me Chef Dinner Series
2020 marks the 100th Anniversary of Women's Suffrage in the United States. To commemorate this significant occasion, we are hosting two dinners where we will be celebrating two different chefs who have pursued their dreams to run their own kitchen despite obstacles and challenges and have earned the right to be called chef – not female chef – just chef.