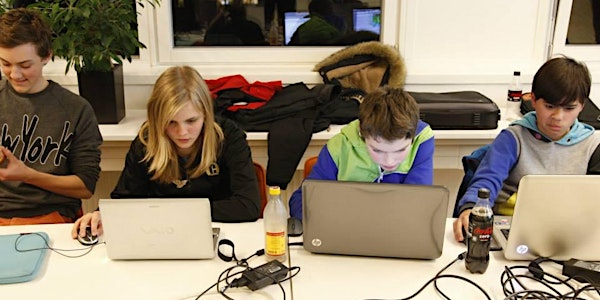 Junior GOTO Workshops for Kids
When and where
Location
Philip H. Corboy Law Center 25 East Pearson Street Chicago, IL 60611
Description
We are excited to host a set of coding workshops for kids aged 8-13 years old. These are afternoon workshops run by experienced trainers and kids get a chance to learn and play with software programming. There are four half day workshops to choose from and we will provide snacks and beverages for kids who attend. Each participant will need to choose one workshop to attend upon registration. There is a $25 registration fee to attend. Registration opens at noon and the workshops run from 1:00 PM - 5:00 PM.
The workshops include:
HTML: Learn the basics of building websites with HTML: With kids growing up in a digital world, learning HTML is almost as important as learning a second language. In this course, kids will learn the fundamentals of HTML and CSS by creating their own basic personal Web site. Kids will learn how the basics of HTML element tags, and how to style elements on the page using Cascading Style Sheets (CSS). By the time your kids are done, they will be able to upload their project and have a working personal Web page!
Alice with a cup of Java: Make your stories come to life while learning to program with Alice! In this class we'll explore Alice a 3-D animation program that allows students to create scenes with people, animals, vehicles, etc and bring them to life with drag and drop instructions. The course will start with creating a simple scene and getting our heroes or heroines to do some simple exercises. The exercises will cover basic movements using the drag and drop interface. Next we'll show that Alice isn't just about tea parties but she likes Java too! We'll cover how the drag and drop is converted into Java code using the Netbeans IDE with the Alice Plugin. Students will then continue to code their exercises by manipulating the Java code. Finally students will be encouraged to write a story to bring to life and demo for the class.
Minecraft Modding: Learn how to build new features the popular game Minecraft
How to Protect Your Information (Intro to Encryption): Whether it is your teacher's test questions or your parent's credit card number, sensitive information must be protected. During this workshop, students will learn how information is protected online and create their own ways to protect information. We will work on puzzles, encryption and code breaking. Let's see who can protect their information and who can crack the code!
The HTML, Minecraft Modding and Alice workshops require that children bring their own laptops, the Encryption workshop does not require that children have laptops as we will have a lab set up for this workshop. Requirements for the workshops are listed below, we will also help kids set up their systems when they arrive at noon. You will receive information regarding any required downloads prior to the conference via email. We will also be sending permission forms for parental consent by email and will have them onsite at registration.
You can inform us if any children have any food needs or allergies we should be aware of on the registration form. All participants will also receive a free t-shirt for participation, so we ask you provide us a size upon registration as well. Junior GOTO is brought to you by GOTO Chicago. We have run several of these workshops with great success in various cities around the world, and we look forward to bringing this awesome event to Chicago. If you have any questions, feel free to contact Geeta Schmidt by email at: gsm@trifork.com.
Software and HW Requirements for the Workshops are listed below:
HTML Workshop Requirements
The HTML workshop is set up for PC's running Windows - so we will have to let sign ups know to bring Laptops running Windows with a working USB drive in order to participate. Children will be provided with USB sticks at the workshop and the instructor will go through the uploading process during the first part of the workshop.
——————————————————————————————
Minecraft Workshop Requirements
Recommended for kids 10 and above
Mac/Windows laptop with 4gb of ram.
It is recommended that kids show up at 12:00 am to help troubleshoot the installation and to ensure a smooth running of the course.
Download and Install
Follow the instructions for Mac or Windows as explained below.
Mac
In Finder, go to Applications, Utilities, double click on Terminal

Change directory to Desktop as cd Desktop

Make a new directory by giving the command mkdir forge

Change to the directory cd forge

Unzip the downloaded Forge 1.9 zip file as unzip ~/Downloads/forge-1.9-12.16.0.1816-1.9-mdk.zip

Give the command ./gradlew setupDecompWorkspace eclipse. The output should show BUILD SUCCESSFUL.
Windows
Open a Command Prompt as explained at http://windows.microsoft.com/en-us/windows-vista/open-a-command-prompt-window

Change directory to Desktop as cd Desktop

Make a new directory by giving the command mkdir forge

Change to the directory cd forge

In File Explorer, double click on the Forge 1.9 zip file downloaded earlier and extract all the contents in this newly created directory.

Give the command gradlew setupDecompWorkspace eclipse. The output should show BUILD SUCCESSFUL.
——————————————————————————————
ALICE Workshop Requirements:
The following should be installed on a Windows, Mac, or Linux Laptop with at least 1 GB of RAM (2 GB is recommended)
Java 1.8 JDK




Alice 3.2

Netbeans 8.1

Alice for Netbeans plugin 3.2.5.0.0
All downloads may be found here: http://www.alice.org/index.php?page=downloads/download_alice3.1
——————————————————————————————
Encryption Workshop Requirements:
This workshops will be in a lab environment so no laptops or systems are required to attend.