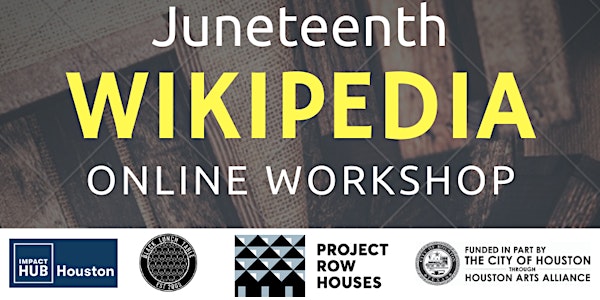 Juneteenth BLT Wikipedia Edit-a-thon with Project Row Houses
Join us to learn how to edit Wikipedia and work together to improve & create Wikipedia articles for Houston's Black artists for Juneteenth!
About this event
These virtual edit-a-thons will focus on Houston's Black arts community. Participants will learn how to edit Wikipedia and work together to improve and create Wikipedia articles. All are welcome and no prior experience editing Wikipedia is necessary!
Why We Edit
Wikipedia is a well-known and widely used global resource, yet content is skewed by the lack of diversity in race, ethnicity, and gender of average Wikipedia contributors. This project was created by Black Lunch Table, which seeks to fill holes in the documentation of contemporary art history, and Project Row Houses, a community platform that enriches lives through art with an emphasis on cultural identity and its impact on the urban landscape.
Let's change that. Join us for a communal updating of Wikipedia entries on subjects related to Houston's Black arts community. We will provide tutorials for the beginners, reference materials, and encouragement. People of all gender identities and expressions are invited to participate.
Event Info
Dates:
June 13, 2020 from 1pm - 5pm (drop in whenever!)
A short tutorial will take place during the first hour but people are welcome to drop in and learn at any time. Participants will be able to ask questions throughout and are not required to stay for the entire session.
Platform: Zoom (link will be sent an hour before the event)