Description
Apologies for the short notice!
But this month's FREE technical session, we're going to have: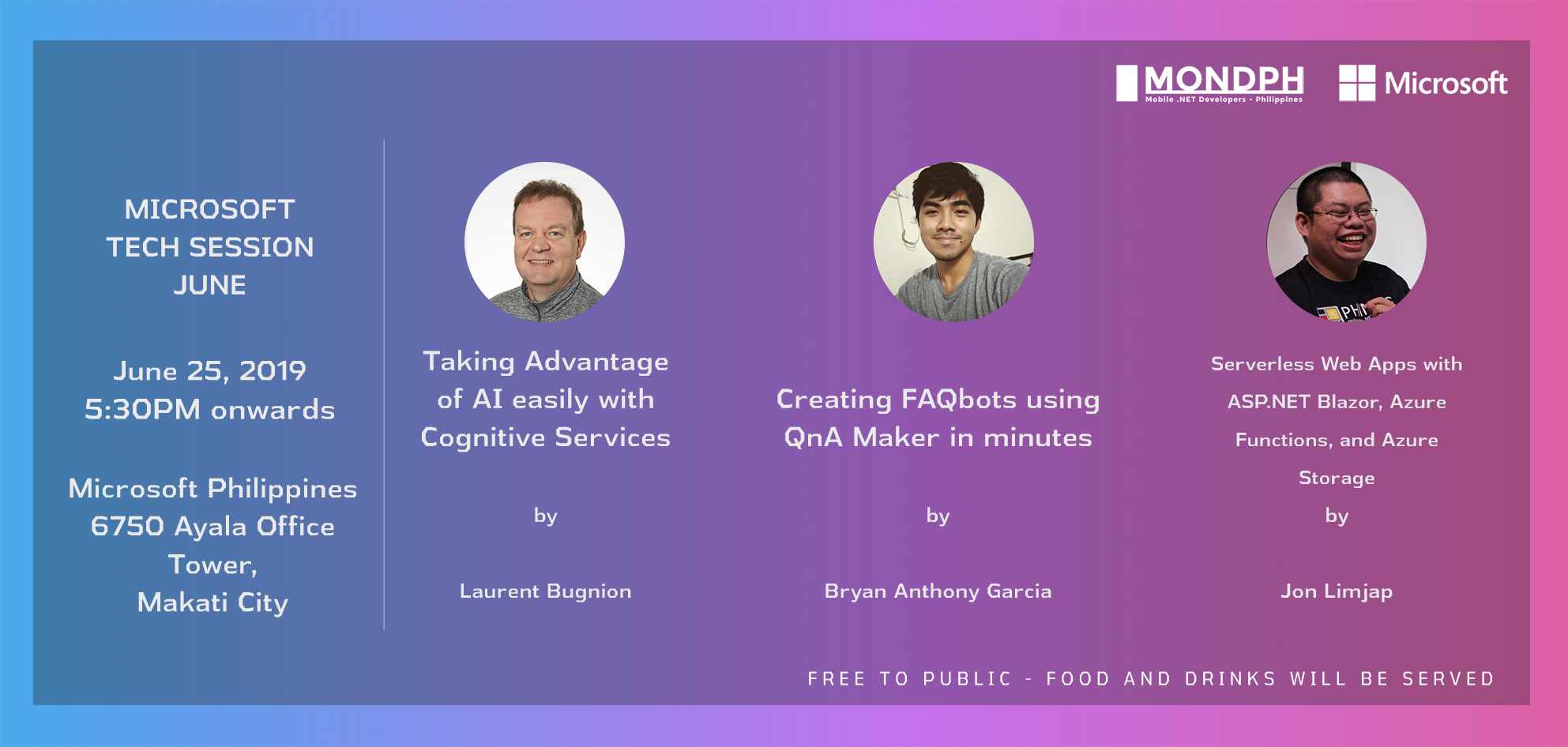 Laurent Bugnion, Senior Cloud Developer Advocate at Microsoft, will talk about Taking Advantage of AI easily with Cognitive Services
Data Science and Artificial Intelligence are fascinating areas of computing. Microsoft is betting a lot on these new technologies, but we are also aware that data scientists are highly trained professionals, and that not every software developer can create and maintain complex data models, perform linear algebra or purchase expensive GPU rigs to run these models. This is exactly why we created Cognitive services. This suite of services offers pre-trained models that you can use out-of-the-box to perform operations in Vision, Speech, Knowledge, Search and Language. In this session, Laurent Bugnion, a Cloud Developer Advocate with Microsoft will show you how you can use cognitive services to enhance your applications with advanced capabilities, how you can refined the trained models with your own data and how you can integrate Cognitive Services with other Azure services to automate tasks.
Bryan Anthony Garcia, Microsoft MVP for Developer Technologies, will talk about Creating FAQbots using QnA Maker in minutes
Building a chatbot has never been this easy. In just minutes, you'll have a chatbot using your existing KB with QnA Maker. It is a cloud-based API service that creates a conversational, question and answer layer over your data.Build, train and publish a simple question and answer bot based on FAQ URLs, structured documents, product manuals or editorial content in minutes.
Jon Limjap, Microsoft MVP Alumnus, PHINUG Lead, will talk about Serverless Web Apps with ASP.NET Blazor, Azure Functions, and Azure Storage
Blazor enables you to write a full stack web application in C# and WebAssembly. Azure Functions let you run serverless compute in the cloud. See how you can combine the best of both worlds to create a fully serverless full stack C# web application for pennies a month. Join Jeff Hollan in this live session to walk you through how you can bring your .NET skills and create a massively scalable web application
This FREE technical session will be held on Thursday, June 25, 2019, 5:30PM - 8:30PM in the Visayas and Mindanao rooms of Microsoft Philippines, 8th Floor, 6750 Makati Ave., Makati City, PHILIPPINES. This is not a workshop, so you are NOT required to bring your laptop.

Hope you can join us and be a part of this another enriching event that will surely hone your Microsoft Tech knowledge!
FOOD AND DRINKS WILL BE SERVED! SEE YOU THERE!