Description
The Lure Group is thrilled to present the second annual Front Row Fireworks, taking place at the East 34th Street Heliport, New York's best view of the 40th annual Macy's Fireworks show. This day-to-night blowout offers exclusive access to the highly limited East Riverfront area where guests will be front and center for America's most famed fireworks show.
This private event gives guests exclusive access past the packed crowd and delivers an over-the-top July 4th celebration complete with live music, various food vendors ranging from BBQ to burgers and other gourmet food options, and multiple fully stocked bars and beer tents. The Lure Group will bring entertainment elements from their venues around NYC including Clinton Hall, West End Hall, Slate and Ambrose Beer and Lobster, to the Heliport featuring life-size versions of favorite games such as giant Jenga, ping pong, chess and more.
With different types of ticket packages ranging from general admission starting at 55 dollars to various VIP table packages with seating options, bottle service, trays of food, and more to choose from. There's a ticket at Front Row Fireworks that fits any style, age, preference and budget, topping the evening off with a sensational, full-scope view of the fireworks spectacle.

---
Check Out What The Media is Saying about Front Row Fireworks!
Time Out New York says: "The Macy's 4th of July Fireworks are an NYC tradition—and unfortunately, so is fighting for a glimpse of them from the middle of a packed crowd. Don't make the same mistake this year: Reserve a coveted spot on the 34th Street Heliport for prime views of the action. If that weren't enough, you'll also be treated to food vendors hawking BBQ, burgers and more, live music, beer tents and games like ping-pong and life-sized Jenga." [Read More]
amNew York says: "Get right on the East Rivrr with the second annual Front Row Fireworks, which will feature food vendores serving BBQ, burgers and more, several bars and beer tents, games such as ping-pong and giant Jenga and live music" [Read More]
Thrillist ranks Front Row Fireworks as the best place in NYC to watch the fireworks: "This private event starts at 6:00pm, and with GA tickets starting at just $60 a pop, you're going to get your money's worth. Perks include fully stocked bars and beer tents, tons of food -- BBQ, burgers, you know the drill -- and life-size versions of games like Jenga, ping pong, and chess. If that isn't enough to entice you, it's a dead-center view of the Macy's show, so you can't beat the location." [Read More]
Curbed lists Front Row Fireworks as an exclusive spot to watch the festivities: "Once again, this heliport will offer an up close and personal view of the fireworks on the East River, with tickets for its festivities starting at $60 and steadily rising from there. There are also VIP packages (for much more money) offering bottle service and other amenities—but really, you're paying for the view here." [Read More]
---
FAQs
If you have a question that is not answered below - or just want to say hi! - drop us a line at info@frontrowfireworks.com.
How do I enter the event?
The area will be closed to traffic. You will enter at the police barricades at East 35th Street & 1st Avenue. Walk down 1st Avenue and turn left at East 34th Street. Walk under FDR Drive and you will see "Front Row Fireworks" clearly signposted. We will have staff to help you get to where you need to be!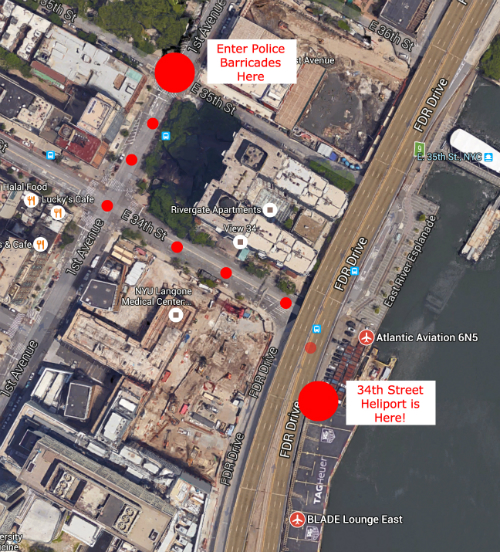 Are there ID requirements or an age limit to enter the event?
This event is family friendly, all ages are welcome! Please note you will need a valid, government issued ID to purchase alcohol.
What are my transport options getting to the event?
Please note street closures throughout Manhattan on July 4th, starting at 3PM. For this reason, we recommend you take public transportation to this event.
From Uptown: Take the A or C subway to Penn Station. Board the M34 bus & take to East 34th / 2nd Avenue.

From Downtown: Take the 4 or 5 subway to Grand Central. Walk down Lexington until you hit 35th Street. Turn left and walk to 1st Avenue.

From Grand Central: Walk down Lexington until you hit 35th Street. Turn left and walk to 1st Avenue.

From Penn Station: Board the M34 bus & take to East 34th / 2nd Avenue.
What time do the fireworks begin?
The fireworks are scheduled to kick off at 9:00PM.
What time should I arrive?
Doors open at 6:00PM. We reccomend you aim to arrive early!
Can I upgrade my tickets on site?
Yes - upgrades will be available on a first come, first serve basis. If you've got your eye on a certain package, we reccomend purchasing online instead of waiting to upgrade day of.
Will I have a seat?
We offer three ticket packages with guaranteed seating: VIP, Ultimate Experience and VIP Table. GA packages do not include guaranteed seating.
What type of food will there be?
We're doing a good ol' cookout! Enjoy hamburgers, hot dogs, pulled pork, corn and watermelon.
What about drinks?
For our guests 21+, we will offer a full premium bar as well as beer.
Our VIP package comes with one complimentary drink (as well as guaranteed seating!).
Our Ultimate Experience package includes a three hour premium open bar, from 7:00PM - 10:00PM.
We also offer a VIP Table for 8, including 1 bottle of premium liquor of your choice & 3 pitchers of beer. Our VIP Tables will also receive a tray of hot dogs, hamburgers, pulled pork, corn and watermelon.
---

* Please note that all sales are final and there will be no refunds.*
**The administrative fee and all other fees applied to the event are not gratuities and are not distributed to the service staff as gratuities but are retained by Front Row Fireworks and applied towards the overhead, operating and administrative expenses associated with the event. All charges, including administrative fees, are subject to an 8.875% sales tax pursuant to New York State regulations.**
#fireworks #firework #4thofjuly #fourthofjuly #4thofjulyweekend #fireworkshow #fireworksnight #fireworkstand #fireworksshow #NYC #independenceday #macysfireworks #nyfireworks #nycfireworks