Event Information
Location
University of Tennessee
(Performances take place on campus in different site-specific locations)
Knoxville, TN 37996
Description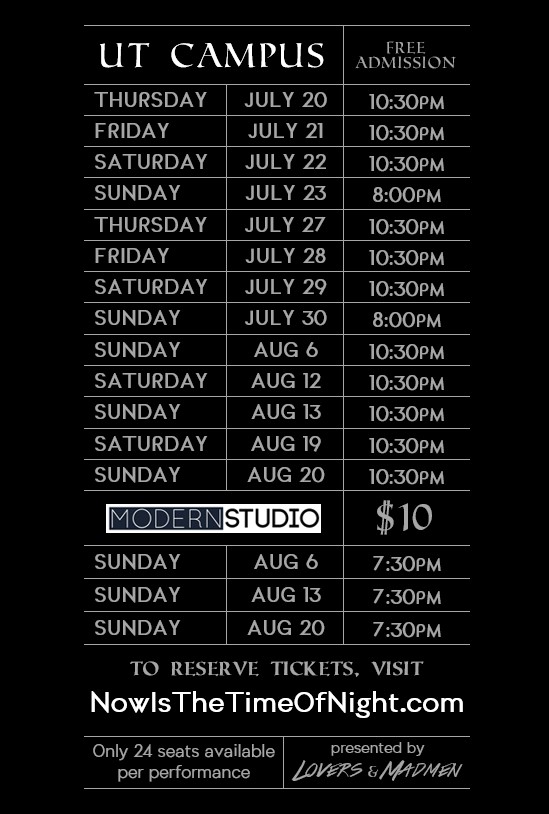 ABOUT THE PLAY
Five friends secretly convene in the middle of the night to act out the tragic tale of Julius Caesar. They soon become swept away as their own prejudices and personal vendettas begin to parallel the lives of the characters in distant Rome. Alliances and rivalries are turned upside down when the fun of play-acting takes a serious turn as Shakespeare's poignant drama begins to hit home.
Five actors with no set, no costume changes, and only candlelight bring the essence of this classic play vividly alive with the sheer theatricality of this all too timely story.
For more information, visit NowIsTheTimeOfNight.com
Featuring
GRACIE BELT
EMILY HELTON
HANNAH JONES
DANIELLE PRESSLEY
LAUREN WINDER
Original Music by
ERIC SORRELS
Fights Choreographed by
CAROLYN CORLEY
JP SCHUFFMAN
Photography by
ROBERT PARKER JENKINS
Adapted & Directed by
DAVID RATLIFF
MODERN STUDIO PERFORMANCES
Performances at Modern Studio will take place on August 6, 13, & 20 at 7:30pm. To purchase tickets to these special performances, please click here: https://www.eventbrite.com/e/lovers-madmen-julius-caesar-tickets-35990469463
SHOW INFO
This is a site-specific production. Performances take place on UT campus, but exact locations are secret and change nightly. You will be given more in depth instructions including arrival time and audience meeting location via email 48 hours prior to your selected performance.
Performances are 100 minutes with no intermission and are staged in the round. If you need to leave during the performance, you will not be able to return to your seat. You will be assisted in finding alternate seating locations in order to ensure the enjoyment and safety of all patrons with minimal disruption to the performance.
Arrive at the audience meeting location 15 minutes before the scheduled start time. There will be no late seating for this production. We will leave the audience meeting location at the scheduled start time and move to the secret performance site; if you arrive late, you will be left.
Location
University of Tennessee
(Performances take place on campus in different site-specific locations)
Knoxville, TN 37996