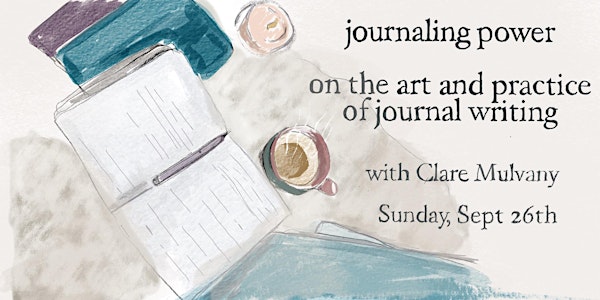 Journaling Power: On the art and practice of journal writing
Learn 5x5 minute journaling practices in this creative 2 hour introductory workshop
About this event
Journaling Power: On the art and practice of journal writing.
A Workshop with Clare Mulvany
Sunday 26th September, 5-7pm Irish Time
'Get in the habit of welcoming your words, you are making a map to the days of your life'- Naomi Shihab Nye
Private spaces. Idea incubators. Sanctuaries. Repositories of experience. Memory banks. A journal is a place for inner growth, refuge and possibility. But where to begin? Or how to sustain a regular journalling practice?
After over 30 years and many many journals later, I've seen how regular creative journaling is a tool of becoming: helping us find our way back to our essence and purpose time and time again.
In this workshop I will share a series of short narrative and visual journaling techniques which take no more than 5 minutes each- practices designed to easily into your day. During the workshop you will have time to write, reflect upon and engage with your own words and wisdom, as you are introduced to:
Inventory taking
Curiosity mapping
Creating rituals of observances
Future writing
The Power of Questions
Come away with fresh, practical ideas and some clear next steps to help you establish or deepen your own journaling practice.
The workshop is suitable for beginners or for those you want to deepen and refresh their practice.
What you'll need:
Please bring along a journal/ notebook, and a pen you enjoy writing with. For this workshop,  I recommends that you are in a quiet, comfortable space with as little outside distraction as possible. The workshop will take place over Zoom, and is best accessed on a laptop/ desktop.
What previous participations have said..
'I attended Clare's February journaling workshop online. The structure was very clear and easy to follow. I found Clare's teaching style to be generous and encouraging, allowing participants to relax and raise questions throughout. The content is really practical and I think there were gems in it for everyone, regardless of their journaling experience'. - Niamh, Feb 21.
'I found the journaling workshop very enjoyable and helpful. It gave me several ideas for new ways to reflect, plan, create, and explore ideas. I really like that the practices only require five minutes to do; this makes the idea of journaling more accessible and achievable. Thanks for a couple of hours very well spent! Siobhan, Feb 21
About Clare:
Clare Mulvany is a writer and educator living in West Cork, Ireland. A graduate in International Education from Oxford University, she has been leading transformational learning programmes for over 20 years across the globe, weaving the strands of creative practice, service leadership, spiritual ecology and social justice. She is the author of 'One Wild Life- A Journey to Discover People Who Change the World', and her writing and documentary photography has appeared in places like On Being and The Irish Times. Clare is currently a lecturer in University College Dublin's Innovation Academy and a member of the wellbeing faculty of The Law Society of Ireland. She is a trained classical hatha yoga instructor, and has led writing workshops and creative retreats across the world.
Aside from everything else, the sea and her dog, bring her infinite joy .
Find out more: claremulvany.ie