Description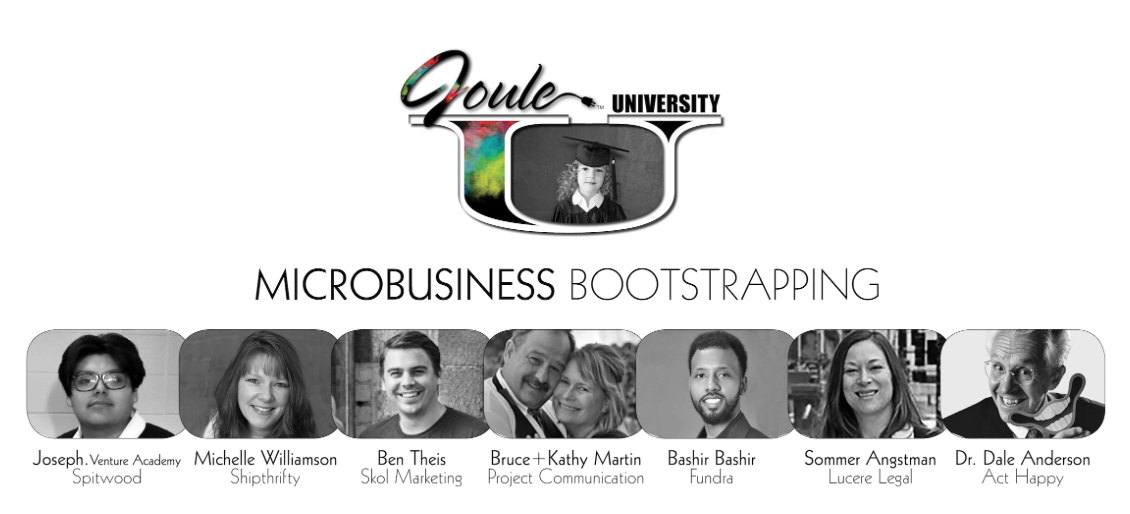 New! 2020 CRAM DAY EVENT
Joule U . BOOTSTRAPPING BASH
Tuesday . January 28 . 10:00A-2:00P


One day crammed with insights, information and inspiration on how they did it and how you can do it too!
Learn how you can DIY an idea, passion, product or service.
AM Session:
Panel Discussion.
A diverse group of evolving and successful micros will share their stories. From founders with years of experience to Gen Z. All crammed into a morning you won't forget.
Joseph . Spitwood . Venture Academy
Ben Theis . Skol Marketing
Bashir Bashir . Fundra
Sommer Angstman . Lucere Legal
Michelle Williamson . ShipThrifty
Kathy & Bruce Martin . Project Communication
Dr. Dale Anderson . Act Happy
Lunch
PM Session:
Options + Resources.
Discover a multitude of options. Learn pros and cons. Meet Resources. Ask questions. Get answers. Find the money to fund your future and have some fun along the way.
Get your copy of the Guide with 70+ resources.
COST: $9.95 includes Lunch
Sponsors:
Jarrod Hutchinson . Bremer Bank . Connect
Jackie Menne . Joule Micro Nation . Connect
Hosted by Joule U
Hosted at Bremer . Linden Hills . 4278 Sheridan Ave S . Mpls
Convenient parking