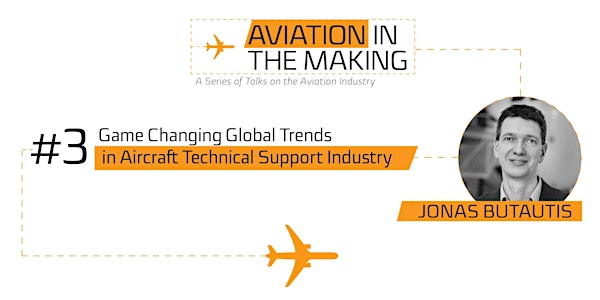 Jonas Butautis: Game Changing Global Trends in Aircraft Technical Support I...
Description
< Lietuviškai skaitykite žemiau >
Jonas Butautis: Game Changing Global Trends in Aircraft Technical Support Industry

What are the key macro trends that will shape aircraft aftermarket industry over the next 5-10 years

How can Baltic businesses position themselves in this evolving marketplace

What does it mean for the current students and future industry employees?


Jonas Butautis started his professional career in Management Consulting industry, delivering high-value strategy implementation projects for Fortune 500 companies in Australia, Asia, Europe, and United States.
Jonas has a successful track record of developing aviation companies, as well as an extensive experience in strategy implementation projects across a number of countries and industries.
In 2009, Jonas became CEO of FL Technics and led the company through 5 years of rapid changes and business development.
In 2013 he was listed as one of 'Global 40 under 40' high potential aviation industry players by Aviation Week.
In July 2014 Jonas was hired as the CEO of Magnetic MRO, with the goal to develop the company into a global provider of integrated Total Technical Care MRO solutions. As part of the renewed strategic push, in 2017 Magnetic MRO was awarded 'Company of the Year' and 'Entrepreneur of the Year' awards in Estonia.
Part of AVIATION IN THE MAKING / A Series of Talks on the Aviation Industry
The current situation within the world of aviation is very optimistic, although there are a number of contradictions. The big players are buying out the small ones, challenges within aviation security are on the constant increase, and new areas of operation and regulation come into play as drones and commercial space flight become a reality.
Much strategic thinking about the future of air transport needs to be accomplished as it predetermines the economy within the entire region. International Air Transport Association predicts that air travel will double within the next 20 years and freight air transport is already one of the fastest growing sectors of the economy within the European Union. What do aviation leaders think of such predictions?
Kazimieras Simonavičius University and the company Friendly Avia Support have joined forces with the intention of concentrating ideas and deepening the knowledge of air transport by organising a series of public discussions about the industry with its leading managers. Sixteen meetings will take place during the 2017-2018 academic year in which distinguished aviation company managers will share their views and insights on the situation within various fields of air transport and evaluate the region's airport systems within a global context.
<< >>
Jonas Butautis

: Globalios tendencijos aviacijos techninio palaikymo industrijoje
• Kokios yra bendrinės tendencijos, įtakosiančios ateinančių 5-10 metų pokyčius aviacijos industrijoje.
• Kokios yra galimos Baltijos šalių įsitraukimo į aviacijos pokyčių tendencijas perspektyvos.
• Kaip globaliniai pokyčiai įtakos pirmuosius žingsnius aviacijos industrijoje žengiančiųjų studentų perspektyvas.


Jonas Butautis kelerius metus dirbo konsultacinės įmonės "Cesim Group" Lietuvos biuro vadovu, vėliau šešerius metus gyveno ir dirbo Australijoje, vadovaudamas verslo strategijos bei įmonių pertvarkymo konsultavimo bendrovės BTS veiklai Australijoje ir Pietryčių Azijos regione. Vėliau įsitraukė į aviacijos kompanijų vystymo bei strateginio valdymo veiklą. 2009 metais tapo generaliniu direktoriumi orlaivių ir jų komponentų techninės priežiūros įmonėje "FL Tecgnics", kurią per 5 vadovavimo metus pavyko išauginti iki lyderiaujančio regione pozicijų. 2013 metais tarptautinis leidinys "Aviacijos savaitė" Joną Butautą įtraukę į įtakingiausių aviacijos industrijos dalyvių, kuriems dar nėra 40 metų, reitinge "Global 40 under 40".
Nuo 2014 metų Jonas Butautis vadovauja orlaivių priežiūros įmonėje "Magnetic MRO", o 2017 metais kompanija Estijoje buvo įvertinta ir apdovanota kaip Metų kompanija ir Metų verslas.
Pokalbių apie aviacijos verslą ciklas

"

AVIATION IN THE MAKING

"
Pastarojo meto oro transporto verslų prognozės itin optimistinės, tačiau aviacijos pasaulyje daugėja ir prieštaravimų. Mažuosius supirkinėja dideli žaidėjai, plečiasi iššūkių civilinės aviacijos saugumui spektras, gimsta visai naujos veiklos sritys: bepiločiai orlaiviai, komercinės kelionės į kosmosą.
Apie oro transporto ateitį būtina mąstyti strategiškai, jis lemia
viso regiono ekonomikos būklę.
Tarptautinė oro transporto asociacija prognozuoja, kad per 20 metų keleivių oro transportu skaičius padvigubės. Krovinių pervežimai oro transportu jau dabar yra viena iš greičiausiai augančių ekonomikos sričių Europos Sąjungoje.
Ką apie šias prognozes mano aviacijos lyderiai?
Siekdamas sutelkti idėjas ir pagilinti aviacijos verslo žinias Kazimiero Simonavičiaus universitetas kartu su įmone "Friendly Avia Support" organizuoja atvirų susitikimų su aviacijos atstovais ciklą. 2017 - 2018 metais vyksiančiose 16-oje paskaitų, seminarų ir diskusijų oro transporto būklę nagrinėja, regiono oro uostų sistemą globalios aviacijos kontekste vertina bei įžvalgomis dalinasi žinomų aviacijos įmonių vadovai.
--- --- --- --- --- --- ---
Registration required / Privaloma registracija #AviationIndustry #KSUniversity #AviaintheMaking
More info / daugiau:
+370 614 75790
rimvydas.vitenas@ksu.lt
www.twitter.com/ksuniversitetas
Organizer of Jonas Butautis: Game Changing Global Trends in Aircraft Technical Support Industry