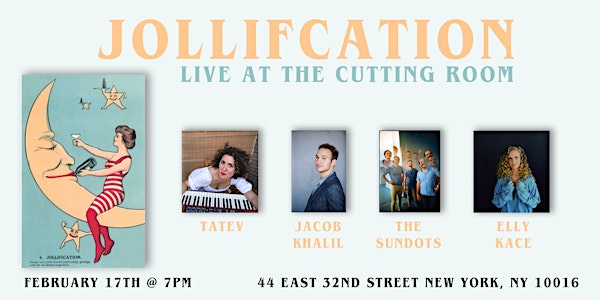 JOLLIFCATION with Tatev, Jacob Khalil, The Sundots, and Elly Kace
UNDER 21 WITH PARENT OR LEGAL GUARDIAN
Join us as we welcome JOLLIFCATION with Tatev, Jacob Khalil, The Sundots, and Elly Kace to The Cutting Room.
When and where
Location
The Cutting Room 44 E 32nd St. New York, NY 10016
About this event
4 hours 55 minutes

UNDER 21 WITH PARENT OR LEGAL GUARDIAN

Mobile eTicket
7-8pm Tatev
8pm-9pm Jacob Khalil
9pm-10pm The Sundots
10pm-11pm Elly Kace
Tatev
Tatev is an Armenian-New Yorker whose compositions and voice feel right at home in rock, jazz, soul, Armenian folk, and classical styles. She is a multidisciplinary entrepreneur whose varied musical influences, inspirations from people, Nature, languages, dance and sound weave a rich and genre-fluid career path. Tatev is a composer, linguist, pianist, producer, and educator. Ms. Tatev was born in Armenia and moved to the U.S. in 2003.
Tatev is also the vocalist and arranger for the "Sounds of Seven" project, the winner at the London International Motion Picture Awards. Upcoming works include an artist residency at Chateau d'Orquevaux in France, a radical record release in 2023 titled "In The Name of The Mother, The Daughter And The Holy Tree" in NYC and a music workshop at TUMO in Yerevan, Armenia.
Driven by the unifying realizations from a near death experience in her youth, she is passionate about life, gaining new experiences and bringing awareness to the benefits of curiosity and openness. She believes in the universality of sound and its form-creating capacity.
"Only together can we embrace diversity and opposites as a whole unit that is made of the same fabric. Music, education that embraces curiosity and Mother Nature can teach us to be fully present in order to be in tune with the higher logic of our essence upon this planet of ours." ~Tatev
"With her classical, Armenian folk and jazz training, Tatev brings a wide range of styles and abilities to any musical environment with a distinctive voice. Tatev has a positively infectious energy on and off stage." ~ Rich DeRosa
Jacob Kahlil
Jacob Khalil is a Texas born, New York City based entertainer who effectively blurs the lines between jazz and modern pop music. His sound is often described as something between John Legend and Harry Connick Jr. and his original songs have been hailed by Broadway World as, "Radio ready…chart toppers."
Jacob maintains a busy schedule of performing nightly in New York City, touring nationally, and collaborating with songwriters and producers in Los Angeles and Nashville. After his sold-out Birdland debut in March 2022, Jacob has since become a Birdland regular, selling out a second show in August 2022. Jacob's voice has been featured on hundreds of recordings, including the feature films "Cryo"(2022) and T.C. Christensen's "The Fighting Preacher" (2019). He has headlined a showroom residency in Las Vegas, performed "This Is The Moment" on live radio with Frank Wildhorn, and he is often called upon to sing the national anthem for NBA games and other special events.
The Sundots
The Sundots are a baroque pop/rock band founded in Detroit, MI and based in NYC. Their fundamental sonic elements: strong baritone vocal melodies, contrapuntal explorations on piano and guitar, funky electric bass, and powerful rock 'n' roll drums. Their meticulously crafted songs explore the standard universal themes of human existence: love, heartbreak, and fresh fruit. Musical influences from rock, pop, 90s dance, and the Renaissance-Romantic eras form a melting pot of sound and create kaleidoscopic variety while still being undeniably themselves. The trio's energetic and theatrical live act is filled to the brim with grace, quirk, charm, and a healthy dose of baroque 'n' roll. This performance will also serve as a release date for their new LP Flowers in Mythology: Agapanthus, the follow-up album to 2021's Flowers in Mythology: Polemonium.
Elly Kace
A virtuosic singer, songwriter, producer, and healing artist, Elly Kace's musical life has been defined by curiosity and passion. Already an established and acclaimed opera singer, her award-winning career has found her performing across the world. Her new solo work 'Nothing I see means anything' (NISMA) straddles contemporary-classical, and experimental indie-pop sound worlds. 'NISMA' reached the NAAC top 200 charts last year, forging an unexpected path for Elly that breaks free from the limits of the disciplines she's spent her life studying.This show features music from Kace's upcoming LP 'Object Permanence', where Kace examines the idea of spiritual permanence in the face of death. A whimsical, multi-dimensional sonic love letter to her ghosts, Elly will be joined by Aaron Edgcomb, Jack Broza, Isaac Levien, Nate Adams and Michael Sarian to bring this new music to life.