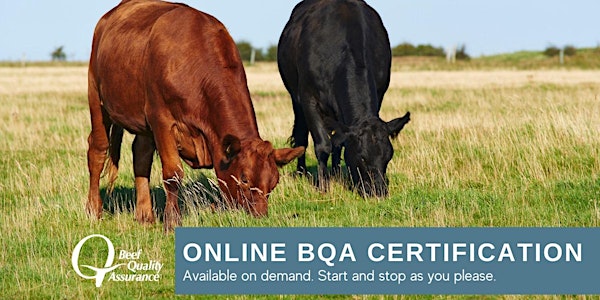 Join us for a Virtual BQA Webinar
BQA Virtual Training Webinar
About this event
In addition to guest speaker, this webinar will include information on online BQA Courses available, How to Certify online, How to Re-certify, Resources available, Frequently Asked Questions and Who to contact for help. Event will feature live Q&A and is open to the public.
FEATURED SPEAKER
November 17th at 7:00pm MST
Hannah Kraft, Livestock Product Specialist
Axmen / Purina Animal Health
"How to manage cow herd in the winter months with drought conditions"
SPONSORS

PREVIOUS SPEAKERS:
March - Bill Pelton, Pelton Livestock - Stockmanship & Cattle Handling
April - Josh Stroh, Hubbard Feeds - Nutrition for Improved Health & Reproduction
May - Dr. Joe Gillespie DVM, Boehringer Ingelheim Animal Health - Vaccine Handling & Administration
June - Brady Johnson, Cattle Specialist, Purina Animal Nutrition - Mineral Toxicities
July - Bruce Johnson, Farm Loan Manager of FSA - current things happening within USDA, FSA, and financing in this current AG market
Oct - Hubbard Feeds - Josh Stroh, Beef Nutritionist "Strategizing your Fall and Winter Nutritional Plan"
Oct - Boehringer Ingelheim Animal Health, Dr. Joe Gillespie "Understand the Impacts of Managing Calves in Adverse Conditions"