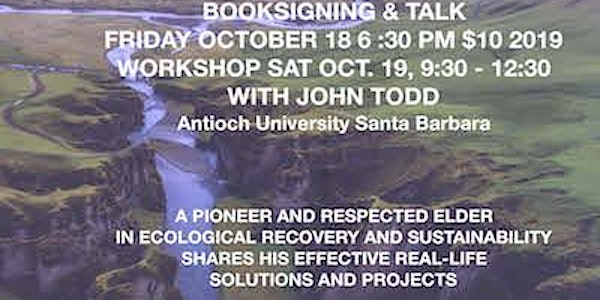 John Todd Book Signing & Friday Evening Talk & Saturday Workshop
Ecologist John Todd, Healing Earth, An Ecologist's Journey of Innovation and Environmental Stewardship
When and where
Location
Antioch University Santa Barbara 602 Anacapa Stree Santa Barbara, CA 93101
Refund Policy
Contact the organizer to request a refund.
Eventbrite's fee is nonrefundable.
About this event
Please join Santa Barbara Permaculture Network on October 18th & 19th for an inspiring two day event with renowned ecologist John Todd, sharing his newly published book, Healing Earth, An Ecologist's Journey of Innovation & Environmental Stewardship.
A stand-out from the sea of despairing messages about climate change, well-known sustainability elder John Todd has taught, mentored, and inspired such well-known names in the field as Janine Benyus, Bill McKibben, and Paul Hawken.
Best known for his Eco-Machines, greenhouses with tanks filled with a variety of plants and other living organisms capable of turning sewage and wastewater into pure drinking water, John Todd is an evolutionary biologist working in the general field of ecological design. Ecological design uses sunlight, biodiversity and natural processes to create clean water with the byproducts of natural gases and biological material.
John Todd's work has spanned nearly five decades demonstrating how nature is capable of cleaning up some of the most toxic messes modern technology has unleased on the planet. From old textile mills on the East Coast of America still polluting rivers and waterways, to luxury resort hotels, high rises and even cities needing to solve present day sewage and water issues, John Todd has offered pragmatic visions of hope with his revolutionary ecological designs.
Todd's recently published book Healing Earth, An Ecologist's Journey of Innovation & Environmental Stewardship, chronicles many more examples of workable engineering solutions for environmental problems, such as healing the aftermath of mountain-top removal and valley-fill coal mining in Appalachia; using windmills and injections of bacteria to restore the health of a polluted New England pond; working with community members in a South African village to protect an important river; and concrete suggestions for solving as yet unresolved issues, including climate crisis events.
John Todd is a biologist and the founder and president of John Todd Ecological Design. He holds degrees covering the fields of agriculture, parasitology, tropical medicine, fisheries and ethology. In addition to new paradigms in an academic setting, he is the founder and president of Ocean Arks International, a non-profit research and education organization and co-founder of New Alchemy Institute, a research center that has done pioneering investigation into organic agriculture, aquaculture and bioshelters. In 2008 he received the Buckminster Fuller Challenge Award for the best idea and concept to help save the planet and humanity. In 2007 he was named one of the top 100 visionaries of the 20th century by "Resurgence & Ecologist" magazine, and in the "Genius Issue" of Esquire he was profiled as one of top 35 figures in "Inventing Modern America."
The evening talk & book-signing takes place on Friday, October 18, from 6:30 – 8:30pm, admission $10. A Saturday morning workshop follows on October 19, from 9:30-12:30pm, $30 (must preregister). Both events take place at the Antioch University Santa Barbara Community Hall, 602 Anacapa St, Santa Barbara, CA 93101. For more information contact: margie@sbpermaculture.org, 805-962-2571, www.sbpermaculture.org.
A Community Event Hosted by
Santa Barbara Permaculture Network
www.sbpermaculture.org
Part of the Santa Barbara Permaculture Network Civics 101 for Climate Change series
Co-sponsors: Santa Barbara Permaculture Network, Antioch University Santa Barbara, Blue Sky Biochar, Teeccino, El Capitan Canyon Resort, Santa Barbara Aquaponics, and the Santa Barbara Independent
Facebook Event Page https://www.eventbrite.com/manage/events/73875829595/details