Description
You don't need to be a jock to have a great time at Jockathon! This event is our signature networking party where we welcome all of the gay sports teams and their members as our special guests. TheMenEvent proudly presents the 13th Anniversary of JOCK-A-THON, a gay sports-themed huge networking and schmooze fest, where all gay team members can meet other sport's members, jock supporters and admirers for a giant mix and mingle.
Featuring:
- No cover
- Hundreds of Hot Jocks from NYC's Hottest Gay Sports Teams and Gay Sports Leagues. Previous teams in attendance have included Big Apple Softball, Braking Aids Ride. Cheer NY, Cycle for the Cause, Front Runners NY, Get Out and Trek, Gotham Cheer, Gotham Knights Rugby Club, Knickerbocker Sailing, Metropolitan Tennis Group, NYC Gay Basketball, NYC Gay Football, NYC Gay Hocky, NY Ramblers, NJ Devils, Out Cylcing, Sundance Outdoor, and Team NY Aquatics.
- Half-price arcade games all night
- Happy hour specials ('till 7:30pm)
PLUS, Raffle Prizes Galore!
JOCKATHON SPONSORED BY:

Dr James Michael Muzzi, DDM! Meet Dr. Muzzi, the dentist used by lots of stars and the president of TheMenEvent, Hugh Hysell )who says "Dr. Muzzi is fantastic, plus you get to watch TV in the chair (and control the remote)!"). Dr. Muzzi offers general dentistry, oral hygiene, dental implants and cosmetic dentistry (including invisalign, zoom whitening, porcelain veneers and smile makeovers). Learn more.

Dr Ryan Turner of Turner Dermatology offers the full range of dermatologic services, including medical dermatology, dermatologic surgery, and a wide range of cosmetic dermatology treatments such as lasers and injectables. Learn More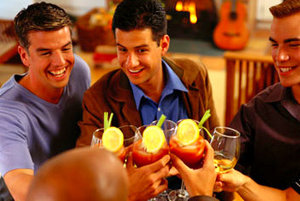 ManMate Dinners for 8 Matches You for Dinner! Since 2004, Dinners for 8 has matched compatible men for fine dining, friendships and relationships. ManMate founder and matchmaking expert Grant Wheaton also introduces you one-on-one. Mention code "MenEvent" and save 20%! See Offer