discussing Jillian York's new book Silicon Values: The Future of Free Speech under Surveillance Capitalism
About this Event
Presented by City Lights in conjunction with LOGIC MAGAZINE and Verso Books
What is the impact of surveillance capitalism on our right to free speech? The internet once promised to be a place of extraordinary freedom beyond the control of money or politics, but today corporations and platforms exercise more control over our ability to access information and share knowledge to a greater extent than any state. From the online calls to arms in the thick of the Arab Spring to the contemporary front line of misinformation, Jillian C. York charts the war over our digital rights. She looks at both how the big corporations have become unaccountable censors, and the devastating impact it has had on those who have been censored.
In Silicon Values, leading campaigner Jillian C. York looks at how our rights have become increasingly undermined by the major corporations' desire to harvest our personal data and turn it into profit. She also looks at how governments have used the same technology to monitor citizens and threatened our ability to communicate. As a result our daily lives, and private thoughts, are being policed in an unprecedented manner. Who decides the difference between political debate and hate speech? How does this impact on our identity, our ability to create communities and to protest? Who regulates the censors? In response to this threat to our democracy, York proposes a user-powered movement against the platforms that demands change and a new form of ownership over our own data.
This event has been sponsored by the City Lights Foundation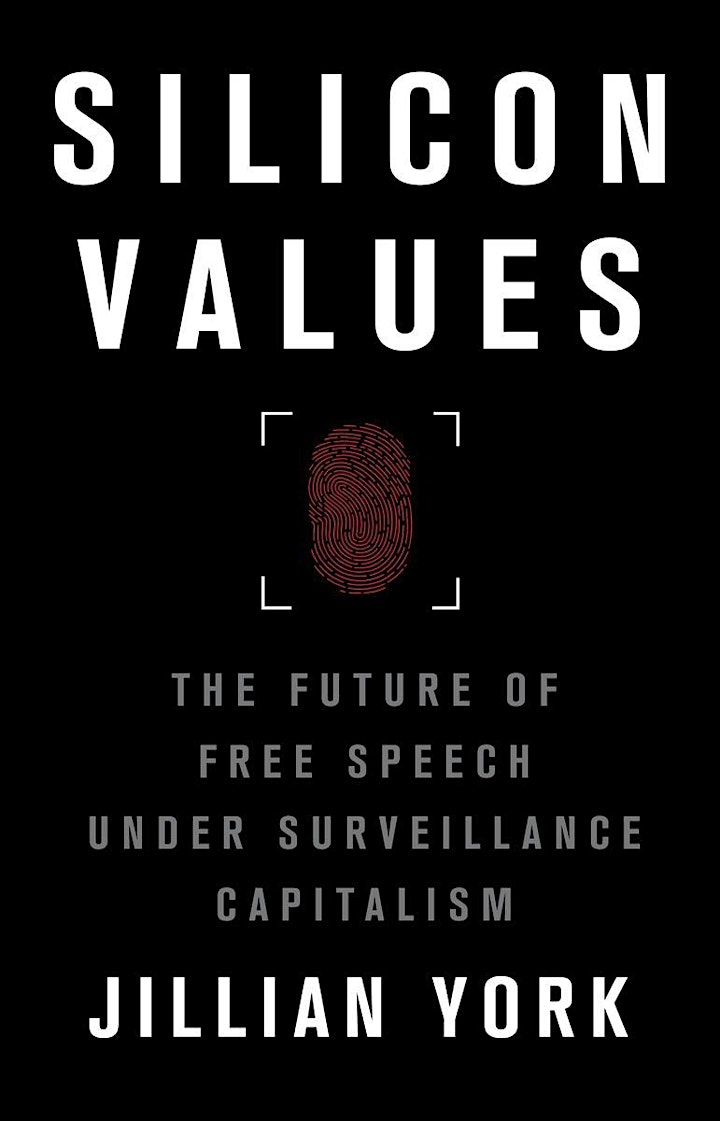 Jillian C. York is International Activism Director at the Electronic Frontier Foundation, EFF. She is also a founding member of the feminist collective, Deep Lab. She has been covering questions of surveillance and freedom since the 2000s. She was named by Foreign Policy as one of the top 100 intellectuals on social media. She has written for the Guardian, Al Jazeera and Foreign Policy. She is based in Berlin.
Ben Tarnoff is the author of the books A Counterfeiter's Paradise and The Bohemians and is a cofounder of Logic magazine. His writing has appeared in The Guardian, The New Republic, Jacobin, and Lapham's Quarterly, among other publications. He lives in Cambridge, Massachusetts.
LOGIC is a critical journal devoted to technology and society. Past issues have explored the effects of technology on culture. Each issues focusses on a specific theme. Past themes have included: civic life in relation to technology, explorations of the problems and possibilities big tech and big data create, democracy in the face of ever accelerating technological advances, gender and equality, sex in relation to technology, how bodies and technologies cross one another, and much more. visit: https://logicmag.io
Verso Books is a publishing house based in London and New York. Founded in 1970 by the staff of The New Left Review, they are one of the largest independent publishers of radical books having published Tariq Ali, John Berger, David Harvey, Frederic Jameson, Edward Said, Rebecca Solnit, and many others.