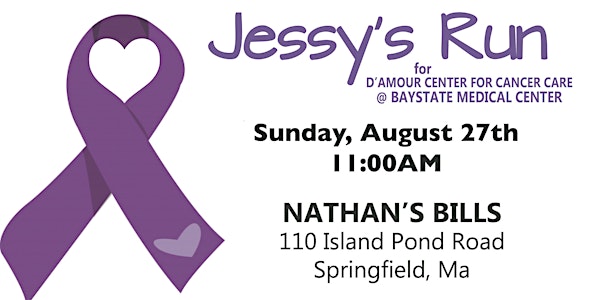 Jessy's Run
When and where
Location
Nathan Bill's Bar & Restaurant 110 Island Pond Road Springfield, MA 01118
Refund Policy
Contact the organizer to request a refund.
Description
On August 27th, 2017 at 11:00 starting in the Nathan Bill's Parking Lot we invite you to participate in Jessy's Run, a 5k run or walk, to raise funds for the D'Amour Center for Cancer Care at Baystate Medical Center. Nathan Bill's and the D'Amour Cancer Center at Baystate Medical Center are very close to the heart of Griffin's Friends. Every Sunday from December to May we gather in their parking lot to embark on our Sunday runs. Every Sunday they open their doors to us before and after the run and never hestitate to offer us support in every possible way they can. When we heard about Jessy we couldn't think of any better way to support a family that is always there to support us by running on a Sunday at Nathan Bill's. We have four different registration options: run or walk only and run or walk with the benefit that day at 1pm at Nathan Bills. All runners and walkers will receive a special Jessy's Run t-shirt.
One last request! Jessy's favorite color is PURPLE! Please deck yourselves out in purple! Shoes, pants, body paint, leggings, tutus, socks, hats, ANYTHING :)
Below is an antecedote from John Sullivan, Jessy's Husband.
On the evening of May 12, 2017, my wife Jessica Sullivan, suffered a seizure during her sleep after managing an event in the Thomas J. Sullivan banquet hall. She woke up the following day with no memory of the prior week's events. She was immediately rushed to Baystate Medical Center's ER. There a team of doctors and nurses ran tests all through the night. In the early morning, we were told by an ER Doctor that a mass was discovered in her brain.

Jessy was soon admitted to the hospital and met with yet another team of doctors. They were very helpful with explaining to us what the plan of action would be for dealing with the tumor. She spent all of Mother's Day in the hospital but was kept constant company by family and friends the entire time.

The following morning, Monday, Jessy was scheduled for brain surgery to remove the tumor. After the surgery, Jessy spent the night in the Surgical Intensive Care Unit for monitoring after her surgery. She was quickly released Tuesday afternoon and was able to go home to our two daughters, Willow 2 yrs old & Autumn 1 yrs old, to allow her to recover and heal in comfort. We still eagerly awaited test results from the tumor to be able to plan our next step. The results came back later that day, and we discovered that the tumor was a high-grade stage 3 anaplastic oligodendroglioma brain tumor. Dealing with this news itself was a battle that our family had to fight. Immediately, I planned the next phase of care for Jessy with our insurance company and both doctors at Baystate D'Amour Cancer Center & Dana-Farber Cancer Institute. Daily phone calls and emails lasted a good three weeks before we got news that our insurance would go out of network so that she could be seen by Dr. Wen in Boston at the Dana-Farber Cancer Institute. Both Baystate & Dana-Farber gave us the news we were expecting and both are working closely together. The doctor's plan was an aggressive daily treatment of radiation in the morning and chemotherapy at night for the next six weeks. Jessy has now completed two weeks of this six-week treatment.

Jessy has been staying strong with help from everyone's prayers and support during this difficult and traumatic time. She has agreed and given permission to both hospitals to conduct research on her tumor, to enable doctors the ability to study to find possible new treatments and cures for this tumor in order to help others in the future. We have been approached daily by friends and family about ways they could possibly help. Numerous suggestions have been to have a benefit or fundraiser, but if you know Jessy she is not the type to draw attention to herself. At the end of her first week of treatment, she decided that she wanted to help others by organizing and throwing a benefit to raise funds and awareness for the Baystate D'Amour Cancer Center.