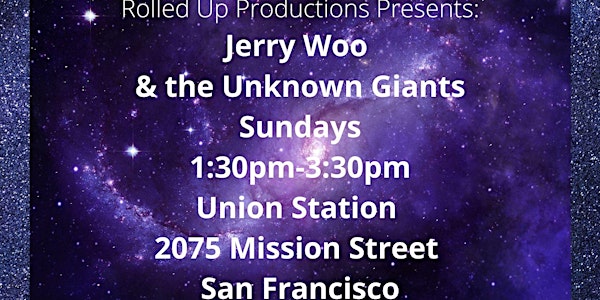 Jerry Woo & the Unknown Giants
Legendary Jerry Woo of New Orleans decent brings his sound to the historic Mission District of San Francisco California every Sunday!
When and where
Location
2075 Mission St 2075 Mission Street San Francisco, 94110
About this event
Union Station is the premier cannabis dispensary in the historic Mission District of San Francisco. Owner Joseph Hunt has created the best cannabis lounge in the Bay Area. The jazz decorum of this lounge is that of a high end, speak easy jazz club. This lounge is well ventilated with a state of the art ventilation system, with comfortable leather couches, water cooler and a dab bar. Reminiscent of Amsterdam, this lounge has an international flair and welcomes weary travelers from around the world.
Jerry Woo grew up in New Orleans playing with the Marsalis brothers and sitting in with such greats as the Neville Brothers as well as Johnny Vidacovic. Jerry is steeped in the tradition of roots music. Everything from traditional jazz, be-bop, the blues, funk, music is music. Jerry's spirited presence & rhythms makes you want to move your feet!
Jerry Woo: Soprano & Alto Saxaphone
Pedro D: Drums
Pittsburgh Paul: Upright bass
Manny Berry: keys & percussion
Lester Carnegie: Trumpet