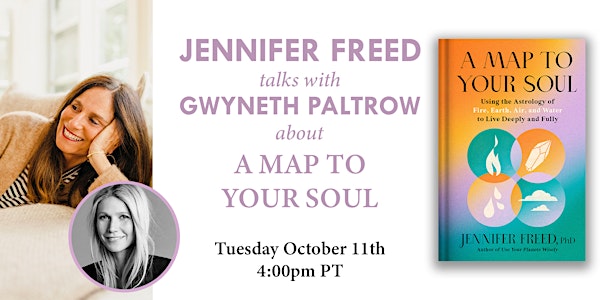 Jennifer Freed talks with Gwyneth Paltrow about A MAP TO YOUR SOUL
Renowned psychological astrologer and psychologist Jennifer Freed and Gwyneth Paltrow will have a live conversation about A Map To Your Soul
About this event
Astrology is often misused to prescribe solutions, attribute stereotypes, and make excuses for human behavior. Psychological astrology does none of these things. It is an evocative and inspiring inquiry into all your divine possibility you have over in your life. It reveals you to yourself with a depth and breadth that empower you to navigate your life in the most satisfying way possible. Modern astrology tends to focus on self-awareness: Who are you? What's your true personality? What are you meant to do in this life? Jennifer's take on psychological astrology certainly will help you get to know yourself better, but it will also support you in using that expanded self-knowledge and self-awareness to make your optimal contribution to your community and loved ones.
Join us as Freed sits down with Paltrow to chat about the release of A Map to Your Soul. They will also be answering your psychological astrology questions in real time during the conversation.
This event ticket includes online event access (sent to you via Eventbrite before the event) and a hardcover copy of A Map to Your Soul, which will be shipped to attendees on October 4, the book's release date.
Please note: Books will be shipped out by Vroman's Bookstore and ticket options include shipped domestically (allow 2-3 weeks for delivery); or shipped internationally (allow 4-5 weeks for delivery).
ABOUT JENNIFER FREED
Jennifer Freed, PhD, is a renowned psychological astrologer and social and emotional education trainer. She has spent over thirty-five years consulting clients and businesses worldwide on psychological, spiritual, and educational topics. A regular contributor to goop and Maria Shriver's newsletter The Sunday Paper, Jennifer has penned ten books relating to personal growth, and she has been interviewed for her expertise by the New York Times, The Wall Street Journal, USA Today, People Magazine, and Vogue.
ABOUT GWYNETH PALTROW, CEO & FOUNDER, GOOP
Oscar-winning actress Gwyneth Paltrow is a bestselling cookbook author, singer, and entrepreneur. In 2008, Paltrow founded goop from her kitchen table. goop has grown into a lifestyle brand devoted to helping women make their own choices count in the various facets of their lives—from style, travel, work, food, and beauty to physical, mental, and spiritual wellness. goop now has a tightly edited digital shop, a book imprint, permanent and pop-up retail experiences, a live event series, and its own product lines, including skincare, fragrances, apparel, bath and body, and supplements.
ABOUT A MAP TO YOUR SOUL
A Map to Your Soul uses the framework of the four astrological elements (air, water, fire, earth) to give readers the tools to understand their personality and to maximize their strengths/talents/gifts in different areas of life. You don't need to know anything about your birth chart to use this book, but if you are an astrology fan, you'll get a much deeper understanding of your birth chart. It is a guide to understand your purpose here on earth and how to best use your gifts to contribute to the world. Written with the beginner in mind but offering insight to the experienced student of astrology, A Map to Your Soul is a 12-part journey through the way the elements express themselves in your life. By balancing and supporting the elements within us, we can finally truly flourish.
ADVANCE PRAISE FOR A MAP TO YOUR SOUL
"Jennifer Freed is one of my favorite spiritual teachers and her fresh wisdom in A Map to Your Soul is a North Star."
—Glennon Doyle, author of the #1 New York Times bestseller Untamed, founder of Together Rising
"Here's a book for all of us who seek a life that is aligned with our values and purpose. It will help you to both deepen your relationship to yourself and to others."—Jay Shetty, #1 New York Times bestselling author of Think Like a Monk, host of On Purpose, former monk and purpose coach
"While journeying through the pages of A Map to Your Soul, it is wholly evident that Jennifer Freed truly cares about the lives of her readers. She wants your life to feel good and be meaningful. Whether you are interested in astrology or not, this book is filled with wise and practical offerings that I have no doubt will either help you find the path you've been looking for, or continue on your current path more confidently."—Cleo Wade, New York Times bestselling author of Heart Talk
"Jennifer Freed is a profoundly gifted, wise, and generous guide. To understand how we work elementally is one of the most clarifying tools we have to work with in astrology. This book is accessible and deep and will help anyone who reads it."
—Chani Nicholas, New York Times bestselling author of You Were Born for This
"I've learned so much from Jennifer Freed over the years. And this book is made up of her most insightful lessons. It's a guide to rediscovering yourself, to finding beauty and resonance everywhere, and to living a truly vibrant life."—Gwyneth Paltrow, founder and CEO of goop
"Dr. Jen is an incredibly intuitive guide who help folks recognize their strengths and potential. She provides a clear map to realizing your innate gifts and how to best share them with the world."
—Mila Kunis
"Dr. Jennifer Freed is a true voice and vision for a fully expressed life of love, creativity, and the celebration of our differences with dignity."—Van Jones, author of Beyond the Messy Truth
"Dr. Jen speaks to the soul. She is a trustworthy guide on the most important subjects in our lives. Her book is a must-read!"—Emily Morse, PhD, host of Sex With Emily
"Jennifer's work is thoughtful, illuminating, and powerful. She is a true master in her field."
—Stephanie Allynne & Tig Notaro
"Readers will enjoy this bountiful offering."—Publishers Weekly