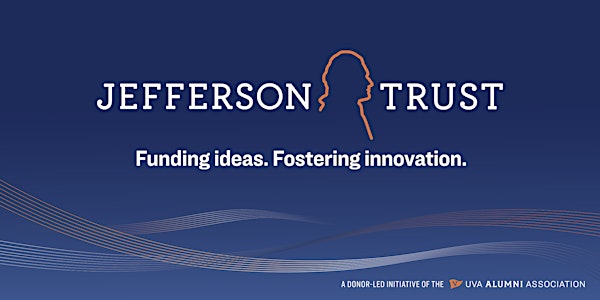 Jefferson Trust Grants Information Session
Jefferson Trust Grants Information Session
About this event
The Jefferson Trust Annual Cycle application is open for the 2021-22 academic year, and we've updated our process!
All applicants must submit a brief Letter of Intent (LOI) by October 1, which will be reviewed to determine if the applicant moves forward to the full application. Full applications are due by 11:59 p.m. on October 25. Applicants will be notified of funding decisions in February 2022.
To learn more about what the Trust funds, and our updated process, join our Virtual Information Session on Zoom Wednesday, September 8 at 8:00 p.m.
Please contact Amy Bonner, Director of Grants & Oversight, at abonner@virginia.edu with questions or to schedule a one-on-one appointment about your project.
This information session will be recorded for future Jefferson Trust use with grant seekers.