About this Event
Jazzy Nights Presents Darryl Clark's 2020 Birthday Bash in the Essex Room of The Fox and Falcon in South Orange NJ.
Its Darryl Clarks' Birthday so come celebrate with us - DC Fusion will be rocking the house with Alex De Lazzari on Sax, Eddie Brown on Drums and special guest Nat Adderley Jr on Keys. Come on thru and lets have a party!!!
Presenting Jazzy Nights in South Orange, NJ
Tapping into the region's top live music talent, Jazzy Nights hosts live music performances from big-name local artists drawn from all Northern New Jersey and nearby New York City .
Live Music and Dining
Please join us for another Jazzy Night of sophisticated live music and more in the beautifully appointed speakeasy styled Essex Room which is located in the very stylish - The Fox and Falcon Restaurant in South Orange, NJ.
Top Notch and Engaging Entertainment
Jazzy Nights is happy to bring o South Orange, NJ, one of areas' most popular bands every 2nd Thursday .
Join Us
Please join us as recreate some of the summer as we move thru the fall and into the jazzy smooth nights of winter in the inviting and warm cozy confines of The Fox and Falcon's Essex room.
Delicious Food and Drinks
The Fox and Falcon is located directly across the street from the South Orange Train Station.. Full Drink and Food Menu Available.
No Cover, Free Parking,
Want a great way to enhance your night out?
Come early and secure a first come first serve seat .
You can also show up when you are ready, enjoy good times and good vibes at the wonderful Essex Room Bar.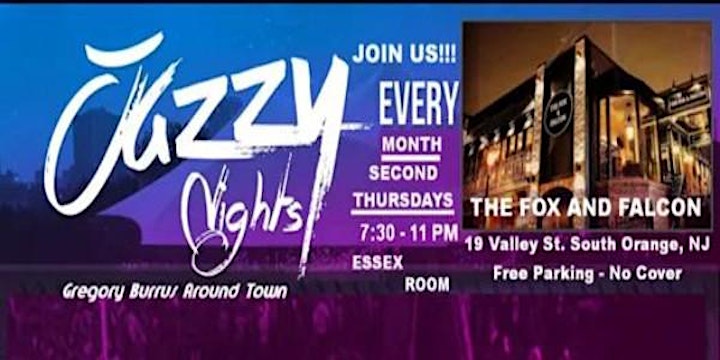 Jazzy Nights Live - Happy New Years
Jazzy Nights Celebration 2020 in the Essex Room of The Fox and Falcon S O
About Jazzy Nights
South Orange NJ has live music scene that for a small town has a wonderful season of live outdoor music that runs from May thru September in various venues all over town. While Jazz is our love, Jazzy Nights South Orange, NJ is not only about jazz and more but extending the wonderful South Orange Live Music Scene.
So Jazz Nights is not just jazz but all flavors of live music along with the mission of keeping the community of live music lovers entertained throughout the year. Since you didn't go away, and your love for the music is always with you, we want to be here for you. Thanks to Fox and Falcon, we get a chance to explore this opportunity.
So no matter where you are, we hope you come on out and join us, meet old and new friends and have some fun with us in the speakeasy style Essex Room of the Fox and Falcon restaurant. It's warm and cozy so join us.
Enjoy a little live South Orange New Jersey Live Music Recap
- Enjoy