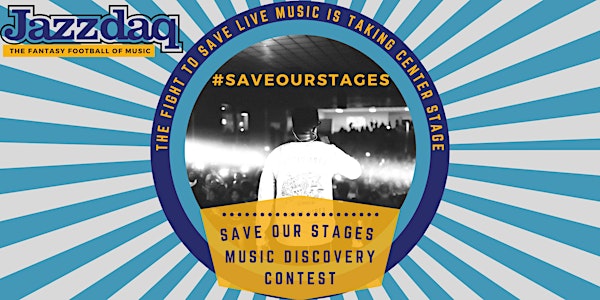 Jazzdaq Presents - Save Our Stages Contests
Jazzdaq is teaming up with Save Our Stages and local venues to raise money and awareness for venues that are hurting right now due to COVID
Refund Policy
Contact the organizer to request a refund.
Eventbrite's fee is nonrefundable.
About this event
Join The Fight To Save Our Stages!!
Buy a ticket to participate in a Jazzdaq Music Discovery Contest
Enter contest and choose 3 songs that are about to blow up
Earn points based on how your song grows during the contests
Rise up the leaderboard while your entry fees are put to work by venues to keep live music in our communities!
Our initial goal is to raise $10,000 for Independent venues!
Entry fees will be donated to campaigns to help support our local independent venues!
Public contests will begin on a rolling basis! Every time we receive 10 public ticket purchases a new contest will start.
Private contests will begin after the private package is purchased and the purchaser can invite as many people as they'd like without additional cost!
Please email info@jazzdaq.com with any questions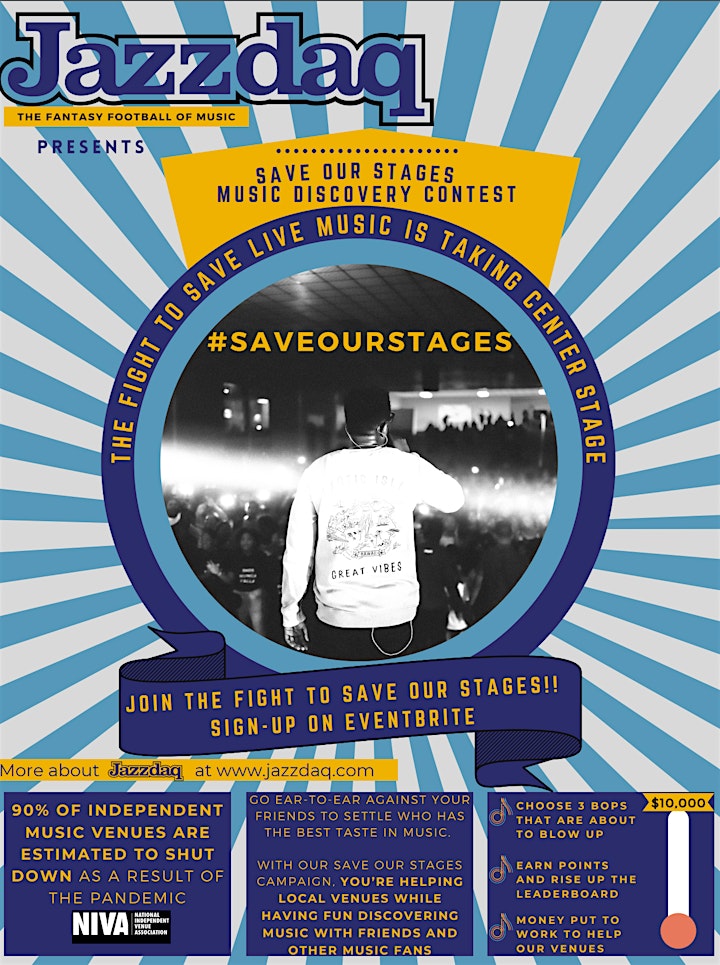 Why Should I play?
There are estimates that suggest that as many as 90% of independent venues are at risk of shutting down after the pandemic. These venues are the fabric of our communities and they need our help right now! The Jazzdaq Save Our Stages contest is a fun way to discover new music, while supporting stages through a little friendly competition.
Entry fees will be donated to the Save Our Stages campaign and directly to venues
Additionally, not only will you be supporting local venues, but you'll also be supporting a local tech company. Jazzdaq is based out of Ann Arbor and launched its MVP with beta users in September. While the product is still in its early stages, Jazzdaq refused to sit on the sidelines (or the green room) and do nothing while venues and artists are hurting all around. So please mind the dust while we continue to make improvements!
How Will This Work?
Once you purchase your ticket to participate in the Jazzdaq Save Our Stages contest, you will receive an email from Jazzdaq confirming your purchase. We will then begin to organize all of the participants into groups of 10 for each contest. You can email info@jazzdaq.com to request to be paired with a friend. There is also a Save Our Stages Private Contest package where we will create a private contest for you and your friends/family/colleagues to compete against each other. With the Private Contest package you can invite as many people as you'd like to join your contest for no additional charge.
Once you are assigned to a contest, you will receive an email from Jazzdaq that contains the information to access the app and to enter into your contest. You will also receive information on how to access our Slack Channel!
What Is The Format?
In this contest, you will compete against other music fans in a music discovery contest that is like fantasy football. Rather than selecting players for a roster, you will select three songs to compete with and you will earn points based on how much the song's play counts grow day to day.
Points are awarded based off % growth, so the earlier you are on a song the more potential that songs has for points. For example, a song that grows from 50k to 100k plays during the contest will earn more points than a song that grows from 100M to 150M. Even though the latter songs grew by more plays, the former song doubled in growth vs 50% growth.