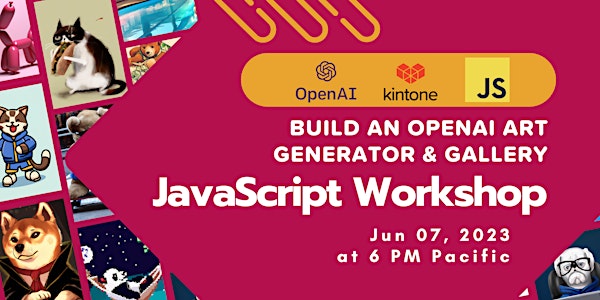 JavaScript Workshop - Use OpenAI Art Generator API
Let's create an AI Art Generator using OpenAI's DALL·E 2 and a gallery using the Kintone web database together!
By Kintone Developer Workshops
Date and time
Wednesday, June 7 · 6 - 8pm PDT
About this event
ABOUT THIS EVENT
Like cats with too many fingers or dogs with depressed human eyes?
If so, join our workshop to go over how to create a gallery with a built-in AI Art generator so you can show off all your mad creations!
Come practice JavaScript with us as we build out this fun project ~
📎 PREREQUISITES
🤖 CLONE THE WORKSHOP REPOSITORY
This is the codebase that we will start the workshop from!
📂 GET A KINTONE SUBDOMAIN (DATABASE)
Apply for a free developer license and subdomain. You can also read up on all things Kintone API & customization!
🕒 EVENT SCHEDULE (IN PACIFIC TIME)
6:00 PM - Hello
6:10 PM - Workshop Overview
6:20 PM - OpenAI's DALL·E 2 Setup
6:50 PM - Web Database Setup
7:00 PM - Building out the AI Art Generator
7:40 PM - Building out the Gallery
7:50 PM - Wrap Up and Q&A
8:00 PM - Thank you & Survey Raffle
📺 CAN'T MAKE IT?
Subscribe to our YouTube channel to get notified when we post this workshop's recording!
Also, check out our most popular workshops with this playlist:
WHAT IS OPENAI?
OpenAI is an AI research organization that gained notoriety recently for its text-generating and image-generating AI services.
ChatGPT 4 is a language model that can generate coherent and realistic text in response to user input.
DALL-E 2 (used in this workshop) is an image generation model capable of creating unique images from textual descriptions.
⚙️ WHAT IS KINTONE?
Kintone is a no-code/low-code cloud platform for teams to quickly & easily share and collaborate on their data.
You can add JavaScript, CSS, &/or HTML to enhance the front-end UI/UX of a Kintone App. This can include features such as maps, buttons, and color-coding.
Read how to customize and develop on the Kintone platform at kintone.dev!