Description
Beginners will learn how to develop dynamic web pages using JavaScript
JavaScript is the programming language of the web. Any serious web design or developer knows this language. It's universal and widely used in most sites today.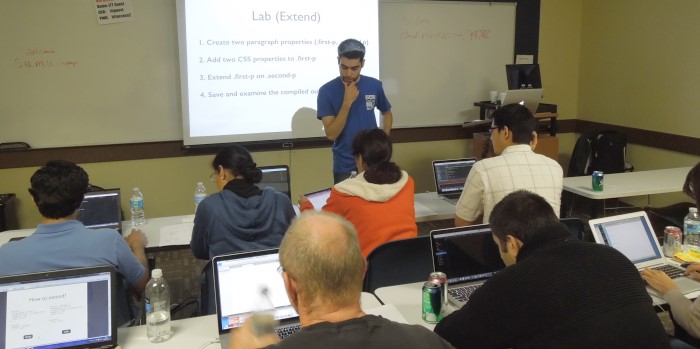 This course is designed for the beginner to the JavaScript language. It teaches you the basics of the syntax, how to declare variables, write functions, and looping statements.
This hand on JavaScript training course teaches you the knowledge necessary to develop dynamic Web pages using JavaScript. You will be taught the concepts you need to begin building world-class web applications.

What You Will Learn From This Class
Course Details
3 Sessions
June 18 and 19
9:00 a.m. – 5:00 p.m.

June 25
9:00 a.m. – 1:00 p.m.
(Price covers all sessions)


Who is This Course For?
Entry-level JavaScript programmers interested in developing strong JavaScript skills
Web designers interested in JavaScript programming
Graphic designers seeking to upgrade their web skills
This course uses real-world exercises and labs to better maximize the retention of concepts taught in the training.
Course Delivery
This course is delivered as a hands-on (hand-coding) workshop and presentation. Participants are required to have their own workstation in which to practice the topics of the course.
System Requirements and Development Environment
Participates should bring a laptop/notebook computer. Mac or PC with any modern web browser installed and working wireless capabilities.
Course Prerequisites
Basic computer skills and knowledge of HTML.