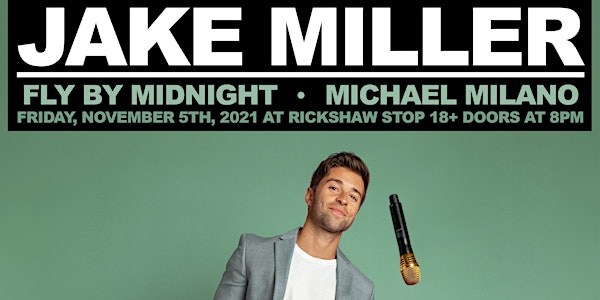 Performers
Jake Miller
Fly by Midnight
Location
Popscene @ Rickshaw Stop
155 Fell Street
San Francisco, CA 94102
Popscene, San Francisco, presents an incredible Fall 2021 show with JAKE MILLER + support from Fly By Midnight + DJ Michael Milano
About this event
Jake Miller progressed from an early party rap style to sleek, R&B-influenced pop within a decade. Influenced by John Mayer and Macklemore, he steadily honed his vision with yearly releases, from his 2013 debut LP, Us Against Them, to the close of the decade on 2019's Based on a True Story. After a couple of singles, he got down to business with 2021's Adderall EP.
Dazed And ConfusedMiller first emerged while still a student at the University of Miami, but he got his start in high school, posting videos online from his Weston, Florida home. In 2011, he self-released his debut EP, Summer Session, and performed his first live gig opening for Snoop Dogg. His second EP, Spotlight, arrived in 2012. After signing a deal with the E1 Music label, he released the Road Less Traveled EP in 2013. That same year, he also unveiled his debut album, Us Against Them, which incorporated smooth pop hooks, acoustic heart, and Miller's introspective rapping. Continuing his one-EP-per-year schedule, he unveiled Dazed and Confused in 2014. It featured appearances from Nikki Flores and Travie McCoy. The feel-good party EP Rumors arrived in 2015. With each release, the Jake Miller sound slowly drifted toward a more R&B-pop-oriented style similar to Nick Jonas or ZAYN. It became fully apparent on his 2016 EP Overnight, which included the sleek title track. That same year, he embarked on a tour opening for Fifth Harmony.
2:00am in LAIn 2017, the singer self-released his neon-washed sophomore LP, 2:00am in LA, after parting ways with Warner Bros. He also taught himself how to play piano and saxophone. Less than a year later, Miller issued his third full-length, Silver Lining, featuring the single "The Girl That's Underneath" with Jabbar Hakeem. By 2019, he had signed with RED Music and issued the singles "Wait for You" and "Nikes," which landed on his 2019 EP Based on a True Story. His two 2020 singles, "Let's Go Home" and "Wanna Be," were followed early the next year by the Adderall EP.