Description
THE FUTURE AS A COGNITIVE PROSTHETIC
It is better to be surprised by a simulation than blindsided by reality. In order for new futures to be made thinkable, they must first be made feel-able. Jake will discuss how bringing the future into the present allows for a deeper relationship to be created with tomorrow. Only then can we begin to design and build better futures, together.
SCHEDULE
6:00 Refreshments
Make sure to grab a beverage and a good seat before the discussion begins!
6:30 - 7:30 Conversation with Jake Dunagan

Jake will speak for 30 to 45 minutes, and then we will open up the floor to questions.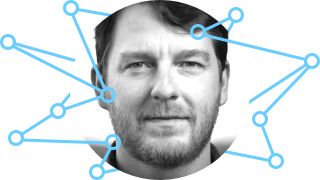 ABOUT JAKE DUNAGAN
Jake Dunagan is an experiential futurist, governance designer, and teacher. Jake's work centers around the concept of social invention. He develops futures concepts and participatory platforms to help people and organizations around the world re-imagine and re-design their futures. Jake creates tools to increase citizen participation in civic design, and he produces visual media, interactive experiences, and public engagement projects that inject alternative visions of the future into the present. Major areas of research and practice include neuropolitics, social enterprise, embodied cognition, judicial foresight, kid's technologies, intellectual property law, and the future of work.
Jake is Director of Design Futures for verynice.co—a social enterprise that gives half of its work away for free to nonprofits. He is adjunct professor of Strategic Foresight in the Design Strategy MBA program at the California College of the Arts, and International Mentor for the Deseño de Mañana program at CENTRO, Mexico City.
ABOUT ETHOS
Ethos is a speaker series designed to connect the minds of artists, designers, and those in the tech industry. thirteen23 is excited to welcome speakers from varied backgrounds to share their ideas in our workspace at 506 Congress Ave.



---
PARKING
Street parking is FREE after 6PM. There are also nearby parking garage options.