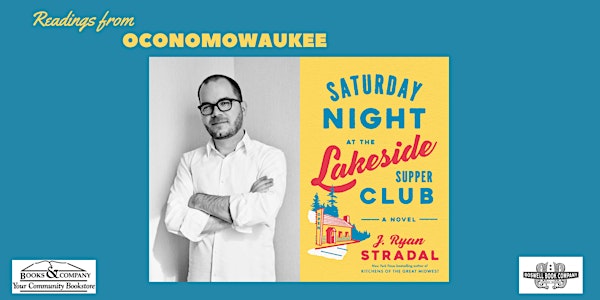 J. Ryan Stradal in conversation - Readings from Oconomowakuee at Books & Co
J. Ryan Stradal, author of Saturday Night at the Lakeside Supper Club, in conversation at Books & Company for Readings from Oconomowaukee
Date and time
Wednesday, April 26 · 2 - 5pm CDT
Location
Books & Company 1039 Summit Avenue Oconomowoc, WI 53066
About this event
Readings from Oconomowaukee welcomes J. Ryan Stradal for two in-person events for his new book, Saturday Night at the Lakeside Supper Club.
In this colorful, vanishing world of relish trays and brandy Old Fashioneds, J. Ryan Stradal has once again given us a story full of his signature honest, lovable yet fallible Midwestern characters as they grapple with love, loss, and marriage; what we hold onto and what we leave behind; and what our legacy will be when we are gone.
J. Ryan Stradal is the author of New York Times bestseller Kitchens of the Great Midwest and national bestseller The Lager Queen of Minnesota. His writing has appeared in The New York Times, The Wall Street Journal, The Guardian, Granta, The Rumpus, and the Los Angeles Review of Books. Born and raised in Minnesota, he now lives in California with his family.
Books & Company will host a 2pm afternoon conversation with J. Ryan Stradal, Lisa Baudoin, Daniel Goldin, and author Amy Reichert.
Reserve your spot for the Books & Company event below.
Boswell will host a second evening event with J. Ryan Stradal, Daniel, Lisa, and author Christy Clancy at 6:30. The evening event requires a different registration HERE.
A book signing will follow each event. Books can be purchased on-line or at each store.
Purchase a copy from Books & Company : https://www.booksco.com/book/9781984881076
Purchase a copy from Boswell: https://www.boswellbooks.com/book/9781984881076