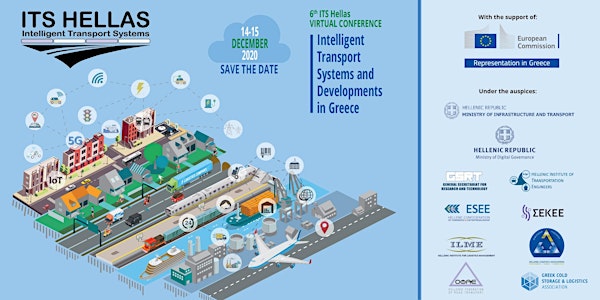 ITS Hellas: 6th Annual Conference
ΙΤS Hellas is glad to invite you to the 6th Conference which will be held virtually on 14 - 15 December 2020
About this event
In light of the continuing uncertainty surrounding the Coronavirus pandemic (COVID-19), the annual two-day Conference of the Hellenic Intelligent Transport Systems Organization - ITS Hellas, is organised for the sixth consecutive year on Monday 14 and Tuesday 15 December 2020 as a virtual event.
Following five successful events, the Digital Conference on "Intelligent Transport Systems and Developments in Greece" will be held this year with the support of the European Commission Representation in Greece focusing on issues related to European goals and national aspirations and efforts for the transition to a sustainable and "green" mobility.
Intelligent Transport Systems are today one of the most dynamic areas of innovation in transport with strong growth dimensions and significant benefits for the economy, end users and the environment. Smart mobility technologies and applications are the driving force behind addressing and achieving the objectives of the Europe Green Deal in the Transport field.
In view of the adoption of the new measures envisaged in the European action plan for a sustainable and green European economy, and in regards to the economic recovery plan and the health challenges of our time, the event focuses on the needs and benefits for the transport sector in Greece, but also on the opportunities for a general reconstruction of the economy through the "green" transition to the digital age.
This year's digital event will host six sessions and interactive discussions which will be thoroughly examined by experts and professionals in the field, representatives of the authorities and the academic and research community, from Greece and abroad. The sessions will be focused on the following topics:
European and National Policies and Strategy for a Green and Sustainable Mobility
Smart Mobility and European developments
Smart Cities and Sustainable Urban Mobility: a holistic approach
European developments in electromobility and Greek reality
Green ports and freight transport
Data collection and management
In the framework of the conference, two additional Workshops will be held and will be dedicated to the activities and research work conducted within the 2CeVau and the C-ROADS Greece European projects.
We will be very glad to welcome you to the 6th ITS Hellas Conference. Participation is free, however, your registration is mandatory to attend the Conference.
More information can be found here: https://go.iccs.gr/fiq496h.