It's a team effort: Creating a county's overdose rapid response plan

Tuesday, August 21, 2018 from 10:00 AM to 11:00 AM (EDT)
Event Details
Webcast will be from 10:00 a.m. to 11:00 a.m. EDT.
It's a team effort: Creating a county's
overdose rapid response plan

DESCRIPTION: The Indiana State Department of Health is hosting a live webcast on the Overdose Response Pilot Project, a program that assesses local health department (LHDs) and county stakeholder capabilities and response readiness for a drug overdose event. An overview of the project will be provided, as well as successes, challenges, takeaways, and information about the new open grant cycle. This webcast will be specifically tailored to LHDs in Indiana.

TARGET AUDIENCE:  Local health departments and anyone interested in learning about the Rapid Response Project.

SPEAKERS: 
Kayley Dotson, MPH, Overdose Surveillance Systems Epidemiologist
Indiana State Department of Health
Amanda Billman, MPH, Overdose Surveillance Educator Epidemiologist 
Indiana State Department of Health

THE WEBCAST LINK (http://videocenter.isdh.in.gov/videos/) will be sent to your email after you register. If you miss the webcast, a RECORDING will be made available. You must still register to receive the link for the recording. 
QUESTIONS? Email indianatrauma@isdh.in.gov.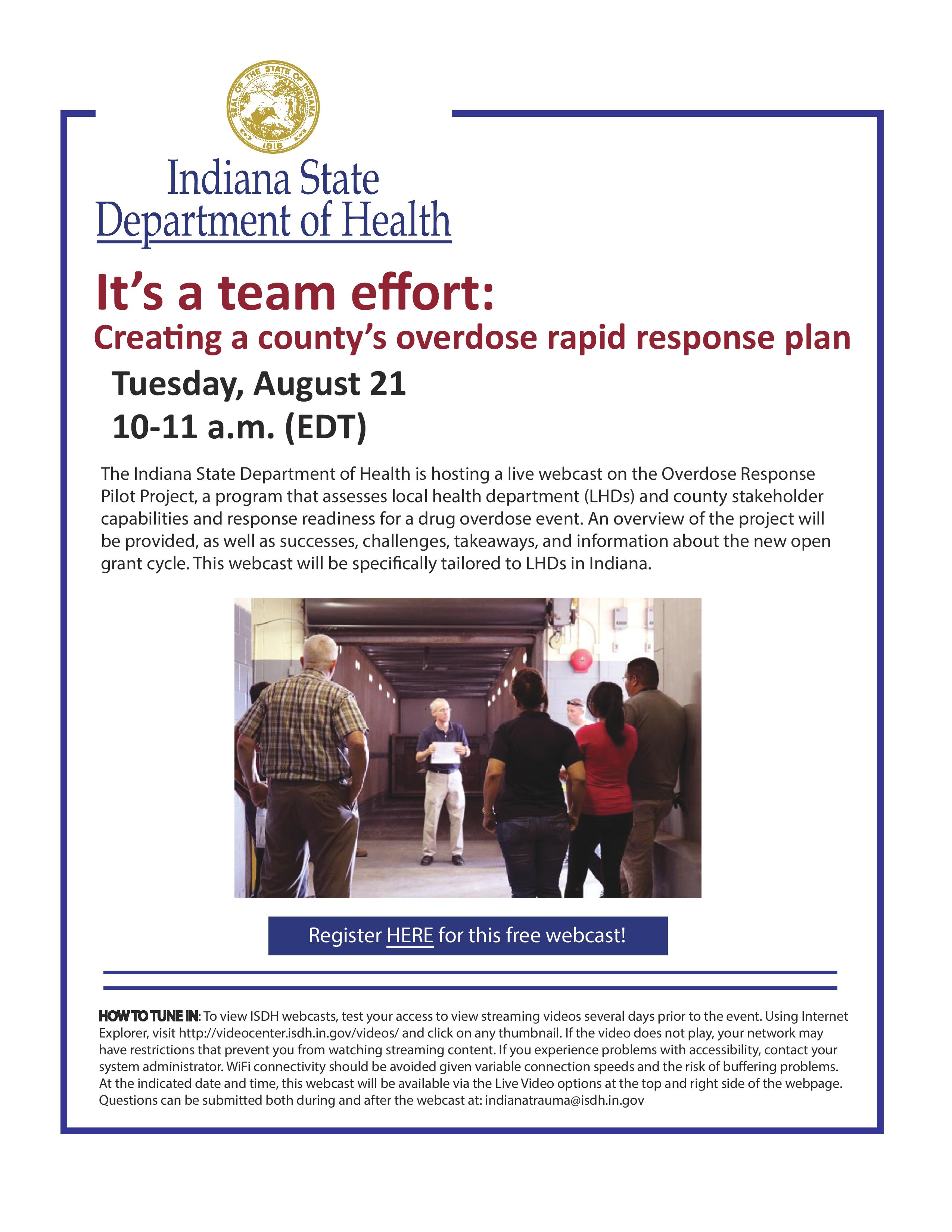 Organizer
Mission Statement
To develop, implement and provide oversight of a statewide comprehensive trauma care system that:
Prevents injuries.
Saves lives.
Improves the care and outcomes of trauma patients.