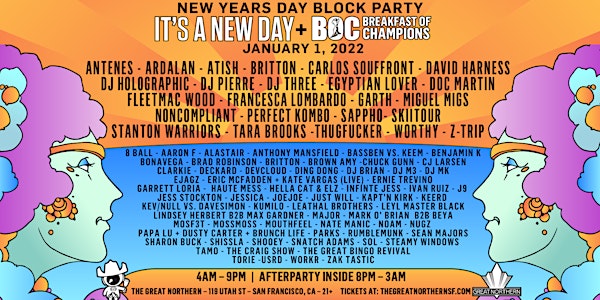 It's A New Day + Breakfast Of Champions Block Party 2022
Great Northern x Space Cowboys Present
Performers
Atish, Dj Holographic, DJ Three, Francesca Lombardo, Miguel Migs, Noncompliant, Perfect Kombo, SkiiTour, Worthy, Z-Trip, Ardalan, Carlos Souffront, David Harness, Doc Martin, Garth, Sappho, Tara Brooks, Thugfucker, DJ M3, DJ Pierre, Fleetmac Wood, Sean Majors, Anthony Mansfield
Max Gardner, Leyl Master Black, Egyptian Lover, Antenes, Dee Diggs, Stanton Warriors
Location
The Great Northern
119 Utah St
San Francisco, CA 94103
The biggest New Year's Day block party in America!
About this event
New Year's Day Block Party
** NEARLY SOLD OUT!! **
★90+ DJs ★ 8 Stages ★ Interactive Playground ★
★ Art Installations ★ Fresh Made Cocktails ★
★ Food Trucks ★ Aerial Performances ★
★ VIP Cabanas ★ + So Much More ★
YES Ins and Outs are allowed from 4am-4pm!
Get ready to dance with our playlist 🎶
★ Crews ★
Space Cowboys, Great Northern, Polyglamorous, Brass Tax
Direct To Earth, Dusty Rhino, Green Gorilla Lounge, Icarus
Inquiry Collective, Konstruct, Sunset Sound System
★ Phase 1 ★
Headliners: Atish, DJ Holographic, Francesca Lombardo, Miguel Migs, Noncompliant, Perfect Kombo, SkiiTour, DJ Three, Worthy, and Z-Trip
Plus: Aaron F, Bassben vs. Kem, Brad Robinson, C.J. Larsen, Deckard, Devcloud, DJ M3, Ivan Ruiz, Leyl Master Black, Max Gardner B2B Lindsey Herbert, Nugz, Sharon Buck, and Steamy Windows
★ Phase 2 ★
Headliners: Ardalan, Carlos Souffront, David Harness, Doc Martin, Garth, Sappho, Tara Brooks, and Thugfucker
Plus: 8Ball, Benjamin K, Brown Amy, Chuck Gunn, DJ Brian, DJMK, Ernie Trevino, Haute Mess, j9, Jess Stockton, JoeJoe, Kapt'n Kirk, Major, MOSF3T, Mouthfeel, Noam, Shissla, shOOey, Sol and Torie
★ Phase 3 ★
Headliners: Antenes, Anthony Mansfield, Dee Diggs, DJ Pierre, Egyptian Lover, Eric McFadden & Kate Vargas (Live), Fleetmac Wood, Sean Majors and Stanton Warriors
Plus: ALASTAIR, Britton, Christina Chatfield (Live), Clarkie, Ding Dong, EJAGZ, Garrett Loria, HellaCat & Elz, James Houdini, Jessica, Just Will, Keerd, kev/null vs. davesimon, Kumilo, Lethal Brothers, Mark O'Brien B2B Beya, Moray Rivers, Mossmoss, Nate Manic, Parks, Rumblemunk, Tamo, The Craig Show, USRD, WorkR and Zak Tastic
★ Micah's Fun Land★
Step right up! It's ALL happening at Micah's Fun Land!
Get down (and back up again) with new friends at Goat yoga.
Burlesque performers will no doubt dance their way into your heart!
Aerial Circus will keep you amazed and dreaming, spinning and screaming!
Magicians with moxy, sparkle, and style! And what's more?
We have Pole Dancers, the Twerkshop, and Bingo; we've got your number!
Plus musical guests Egyptian Lover, Eric Mc Fadden & Kate Vargas (LIVE), Bonavega, Sean Majors, Bix King and Snatch Adams!
★★★★★★★★★★★★★★★★★★★★★★★★
Get event updates:
Per SF city mandate - we are currently requiring proof of full vaccination and mask for entry. For speed of entry, we recommend creating a digital vaccine card with CLEAR.