Description
The next stop on the IT4Causes Event Series is the Rooftop Happy Hour. Join us for drinks, food, and networking with your favorite nonprofit-that-provides-IT-for-other-nonprofits! We hope to see you there! Don't worry about the weather, this event is rain-or-shine (we'll just move inside to the awesome co-working space at 804RVA if Irma, Jose, or their friends try to interfere with festivities).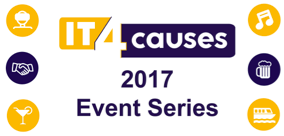 Don't forget about the option to subscribe to the rest of the series! Make sure to get them before the September 14th event to ensure access to the rest of this exciting series! (Ticket revenue will be used to help provide great IT services for local nonprofits.)
Please note, sponsorships are still available for this event! Get your organization's brand associated with an innovative non-profit that's all about helping many different causes, and get access to hundreds of IT professionals and nonprofit leaders through our advertising and with a table/talk time at the events.

Event Series Sponsor:
Impact Makers

"Great Strategy Partner"

"Awesome People" Sponsor:
Marc-Anthony Richardson