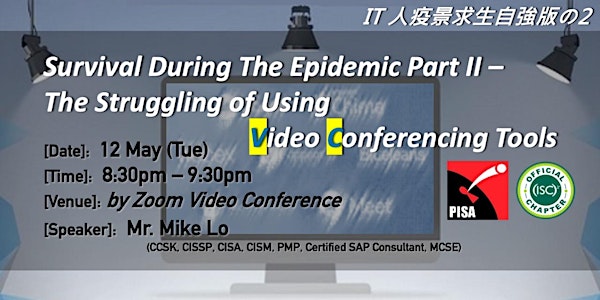 IT 人疫景求生自強版の2 Survival During The Epidemic Part II -The Struggling of Using...
Location
Webinar
Webinar Link and Password will be sent with the Registration Confirmation / Reminder
N/A
N/A, N/A HKG
Hong Kong
Description
Topic:IT 人疫景求生自強版の2 Survival During The Epidemic Part II -The Struggling of Using Video Conferencing Tools

Date: May 12, 2020
Time: 08:30 pm - 09:30 pm
Speaker: Mr. Mike Lo (CCSK, CISSP, CISA, CISM, PMP, Certified SAP Consultant, MCSE)
by Zoom Video Conference
As an IT professional, how do you deal with the pandemic situation while you are Work-From-Home (WFH)? Have you using

The coronavirus pandemic situation hasn't yet under controlled in recent weeks, video conferencing tools are more frequently used to communicate with your peers and clients, as a good security practice, have you ever evaluated the security level of video conferencing tools that are being used? Are there any default settings that are vulnerable and easily exploited by the attacker? Any possibility that your sensitive meeting conversation leaks owing to the misconfiguration or poor setup.

PISA has the honor to have Mike Lo share with our members, via Webinar, his invaluable advice for using Video Conferencing Tools as an IT professional during the pandemic situation.

During the webinar, Mike will talk about the security tips for using Video Conferencing (VC) tools, there is a number of suggested rules and best practices stated in the material, as well as screen capture of different VC tools' setting, these settings are also mentioned in the latest Securities and Futures Commission (SFC) Work-From-Home Guideline released on Apr 29th, 2020.

The Webinar is conducted in Cantonese with English Presentation Material.
Please install the Zoom software/app for your PC, Mobile or Tablet.
For the web site and password, it will be sent by a separate email after the registration.

=======================================================================
BIO Data of Mike

Mike is currently working for a Swiss-based CREST Certified Cyber Security Assessment company "wizlynx group" with the role of "Director, Cyber Security Services" looking after Hong Kong and Taiwan Markets, he is also the Program Director of PISA, Founder and Chairman of HK CTF Association, Convener of Car Hacking Village HK, frequent SSO Trainer for ISC2 HK Chapter and Founder of HITCONxCHANGE.

Mike has been working in the IS/IT sectors for over 15 years. He actively involves in Cyber Security and Risk Management projects and researches, which include HKMA CRAF Compliance Practice, Security Assessment on Web and Mobile Applications, Source Code Secure Review practice, Enterprise Security Maturity Gap Analysis, Global Systems Security Role Review and Ransomware Incident Handling for AP regions, especially in HK and TAIWAN.

He is an honoree of ISLA (Information Security Leadership Achievement 2013 - NFC Security Research, honored by ISC2. Mike is an honoree of the Merit Awards of CPSA 2017 by the HK Police Force. He had stationed at Taiwan and Geneva as a Security Consultant delivering Information Security assessment services to government sectors, public utilities, and banks.
Mike is the first Asian accredited oversea as Certified CCSK (Certificate of Cloud Security Knowledge) Trainer of CSA (www.cloudsecurityalliance.org). Mike is also a frequent speaker at different security seminars and conferences in Hong Kong, Macau, and Taiwan areas.

Besides, Mike is an experienced ERP (SAP Certified) Consultant, who familiar with Call Center / Telecom / Retail Fashion / Logistics operations. Mike holds professional qualifications such as CCSK, IPv6 Sage, CISSP, CISA, CISM, PMP, SAP Certified Consultant, MCSE, and MCNE.