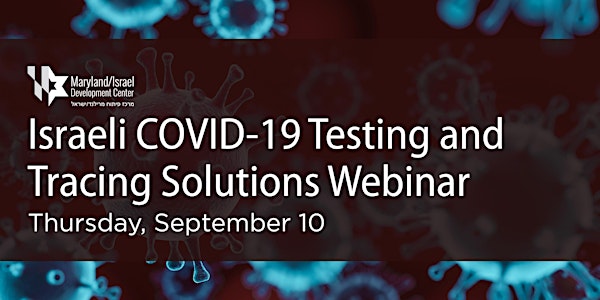 Israeli Covid-19 Testing and Tracing Solutions Webinar
Israeli Covid-19 Testing and Tracing Solutions Webinar
About this event
Date: Thursday, September 10, 2020, 12:00 - 1:00 pm EST, 19:00 - 20:00 pm Israel Time
While the world awaits a coronavirus cure, Israeli high-tech companies are developing testing and tracing technologies to better detect and manage the disease. The next webinar in our Israeli Technology Series will feature three Covid-19 technology solution providers including:
Speakers:
• Elya Tagar, Vice-President Business Development and General Manager USA Operations, Diagnostic Robotics, developers of a remote assessment and monitoring platform and triage system to analyze patients' clinical symptoms and COVID-19 risk profile.
• Dean Nohe, Director of Business Development, ELTA North America, developers of a Noncontact Vital Signs Screening System to remotely test body temperature, heart rate and respiration to safeguard people entering public facilities. ELTA has its North American headquarters in Maryland.
• Oren Gavriely, CEO, NanoScent, has developed a rapid pandemic screening of upper respiratory viral infection system using a nasal scent reader.
• Moderated by Karen Mandelbaum, MIDC board member and Senior Counsel the Health Care and Life Sciences practice at Epstein Becker Green.
For more information contact, Barry Bogage bbogage@marylandisrael.org. Zoom link will be given upon registration.